Robotech Kicks Off 25th Anniversary Celebration at Animation On Display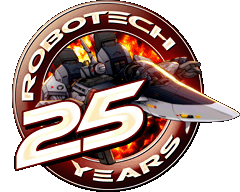 Robotech, "a sweeping science-fiction anime epic of humans defending their homeworld against alien domination," is celebrating its 25th anniversary with a tour of various anime conventions across the United States. The celebration will all start in San Francisco this January 30-31, 2010, at Animation On Display (AOD), San Francisco's very own Japanese anime and cartoon convention!
Three key figures behind Robotech will be appearing at AOD:
Carl Macek – the "creator"/producer of Robotech
Tony Oliver – the voice actor of Rick Hunter, the hero and main character
Tommy Yune – Creative Director for the show
Carl, Tommy, and Tony join voice actors Kyle Hebert, David Vincent, and Cristina Vee; "You are a pirate"/Happy Tree Friends writer Ken Pontac; and web comic artists Ian McConville, Matt Boyd (MacHall/Three Panel Soul), and PMBQ (Unemployed Pandas), all as guests of honor at this year's AOD.
For more information about AOD in general, please visit http://www.aodsf.org. Until 1/15, pre-registration for two great days of fun is just $25! At the door, registration will be $20 for Saturday, $15 for Sunday, $30 for both days.
Other Robotech 25th Anniversary Celebration Tour Stops include:
KATSUCON 16
Washington D.C. / National Harbor, Maryland
February 12-14, 2010
Guests: Steve Yun, Tony Oliver, Chris Ayres, Greg Ayers, Jo Chen
Katsucon.com – forum discussion
NAKA-KON 2010
Kansas City, Missouri
February 19-21, 2010
Guests: Tommy Yune, Chris Ayres, Greg Ayers
Naka-Kon.com – forum discussion
COASTCON
Biloxi, Mississippi
March 5-7, 2010
Guests: Kevin McKeever
CoastCon.org – forum discussion
MIDDLE TENNESSEE ANIME CONVENTION
Nashville, Tennessee
April 30-May 2, 2010
Guests: Steve Yun, Tommy Yune
MTAC.net – forum discussion
ANIME CENTRAL
Chicago / Rosemont, Illinois
May 14-16, 2010
Guests: Steve Yun, Vic Mignogna
ACen.org – forum discussion
PROJECT A-KON 21
Dallas, Texas
June 4-6, 2010
Guests: Kevin McKeever
A-Kon.com – forum discussion
ANIME MID ATLANTIC
Hampton, Virginia
June 11-13, 2010
Guests: Carl Macek, Kay Reynolds, Jason Waltrip, John Waltrip, Steve Yun, Tommy Yune
AnimeMidAtlantic.com – forum discussion
ANIMENEXT
Somerset, New Jersey
June 18-21, 2010
Guests: Kevin McKeever
AnimeNEXT.org
ANIME EXPO
Los Angeles, California
July 1-4, 2010
Guests: Kevin McKeever, Steve Yun, Tommy Yune
Anime-Expo.org – forum discussion
MECHA-CON
New Orleans, Louisiana
July 16-18, 2010
Guests: TBA
MechaCon.com
COMIC-CON INTERNATIONAL
San Diego, California
July 22-25, 2010
Guests: Steve Yun, Tommy Yune
Comic-Con.org/cci – forum discussion