The Dragon*Con 2010 Convention Report
Every year we eagerly await Dragon*Con. It's one of our favorite conventions, as well as a great opportunity to spend time with friends. And although we always have fun at the convention, it is far from perfect. Below is a recap of our experiences at Dragon*Con 2010, including the good, the disappointing, and the ugly. At the end is a link to The Convention Fans Blog flickr gallery, which includes 500+ of photos from the convention.
The Good
Dragon*Con always has a ton of great programming, and 2010 was no exception. There was just so much to see and do. Some of the highlights for us included the epic Star Trek: Deep Space Nine panel, which featured Avery Brooks, Armin Shimerman, Rene Auberjonois, Robert O'Reilly, and J.G. Hertzler. We really enjoy it when when celebrity guests get to do Q&A panels together, especially when they have great chemistry like these guys do. We thought the single best moment came when Brooks invited a little boy on stage to sit on his lap and ask the question right into the microphone. Everyone did the "awwww" thing, and then the kid sat back down. The next person to ask a question was a guy in his 20s, who admitted to being jealous of the little kid before him, to which Hertzler insisted that the guy come sit in his lap to make up for it. And he did. And then Shimerman jumped in Auberjonois'  lap. The audience was just dying laughing. Good times.
Another favorite panel was the Adam Savage Q&A. We had seen him last year, but he's so wonderfully entertaining and funny, so we made it a point to see him again this year. As always, he charmed the audience with some great stories, and gave wonderfully thoughtful answers to the fan questions. Savage is a geek just like us, and you can tell he feels at home among his "people."
Of course, another favorite event of ours is the Saturday morning Dragon*Con parade. We staked out our usual spot near the Hyatt, and ended up with a pretty good view of it. It was a nice mix of the regular favorites (the pirates, the Trekkies, the stormtroopers), along with an infusion of some fun new groups (like the Lady GaGas and the Kia Soul Hamsters).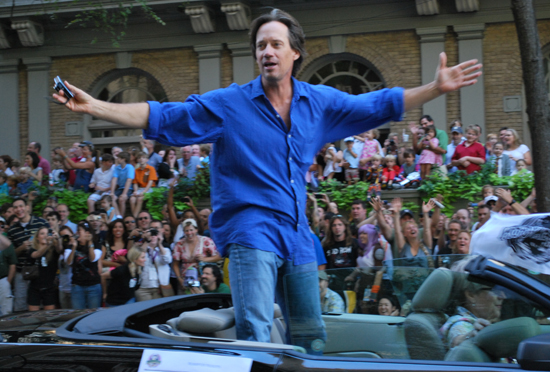 Back to more Star Trek programming, The Gowron and Martok Live event on Sunday was too funny for words. J.G. Hertzler and Robert O'Reilly got all dressed up as their Klingon alter egos to do the Q&A, which is something they've been doing at conventions for a while now, but hadn't yet done at Dragon*Con. In addition to answering questions, O'Reilly gave a performance of The Jabberwocky, and the pair did a Klingon rap song. (You had to be there.) This is an event you should absolutely make a point to see if the duo brings it to a convention near you.
Of course, Dragon*Con isn't just about panels. It's also about gaming! Despite having gone to Dragon*Con for several years, we never made it into the Hilton's open gaming area until 2010. Why we didn't do this sooner, we will never know. It's perfect! There are so many tables available, there's a game library you can rent games from, BattleTech simulator cockpits, and food vendors and bathrooms close by. It is gamer heaven. Why we spent so much time hauling ourselves to the 10th floor of the Marriott to game is beyond us. In the future, we intend to spend a lot more time in the Hilton gaming area.
The Disappointing
Our team is pretty big into Star Trek (at least those of us that attend Dragon*Con), so we spend a lot of time attending Star Trek programming. As many are probably aware, long-time Trek programming director Eric Watts was not asked to return for Dragon*Con 2010, and his replacement was none other than Garrett Wang (Voyager's Harry Kim). Many were eagerly awaiting news of what he would do with his new found position.  Sadly, we weren't terribly impressed. Not only did we have very little information prior to the con, but repeated attempts to reach Wang or his team about programming or volunteering went unanswered. When we finally got the pocket program, we were disappointed.  It was mostly celebrity Q&As and very little else, at least compared to what Watts used to offer. There were significant blocks of time where there was nothing going on.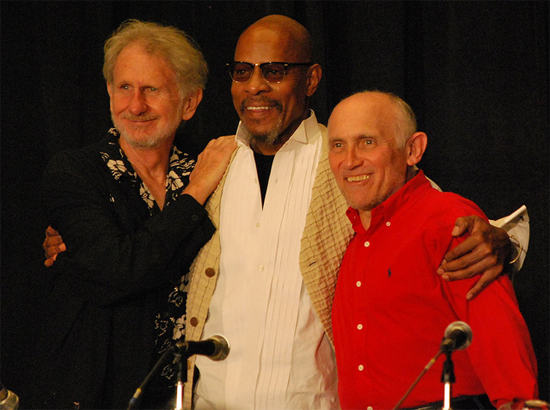 But that wasn't the only problem. Wang was clearly having trouble balancing his duties as the track director and being at Dragon*Con as a guest. He was late for the DS9 panel, and as a result someone had to fill in for him. This fill in guy not only mangled Armin Shimerman's name, but he also forgot Robert O'Reilly was on the panel. Avery Brooks even told the guy to sit down and be quiet at one point (hard to tell if he was kidding, it didn't sound like it). Ouch.
Another disappointing aspect of Dragon*Con 2010 was line management… again. This has been a growing problem for several years now, and there's no sign of it getting better. When we went to get in line for the Adam Savage panel, we discovered that the line for the Firefly panel before it was still being ushered into the ballrooms. That panel started 20 minutes late as a result. In the meantime, none of us for Savage could line up until the Firefly line was cleared. We were getting little to no feedback from staff on where we needed to be. When the Firefly line finally cleared, they told all of us standing there that we would have to go outside, walk around the building, and then wait outside. Those of us who had been there early and waiting patiently for information ended up getting much further back in the line than we should have been. If they knew they were going to need us to queue outside, they should have told us or had a sign posted right from the start. We wouldn't have wasted so much time standing around waiting for directions.
The Ugly
We are honestly a bit surprised to be talking about the problems of pre-registration pick up again this year. As you may recall, last year we waited 3.5 hours to pick up our pre-registered badges on Thursday. There was a huge outcry on the forums and LiveJournal last year, complaining about the problem. We were assured that measures would be taken to address the issue. There was talk of changing how the lines were divided, etc., along with a slew of suggestions on how to improve the process. When Dragon*Con announced that pre-reg pick up  for 2010 would begin as early as 10 a.m. on Thursday, we were hopeful.
We should not have been.
Pre-registered badge pick up was just as bad in 2010 as it was in 2009. People were waiting in lines between two hours and four hours long. This is absolutely unforgivable. Dragon*Con has been around long enough to have developed a better system at this point, especially when other newer conventions that are just as large do it so much better than they do. There is no excuse for having to wait four hours to pick up something you have already paid for. None.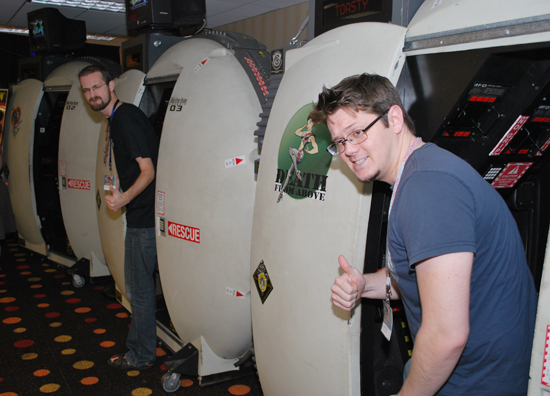 Recommendations
Staffers at Dragon*Con can be hard to identify quickly, especially in a crowded area. Their main identifying mark is the purple "staff" lanyard. Instead, Dragon*Con should hand out staff only shirts, as is done for conventions like PAX and Star Wars Celebration. This makes staff easy to spot, especially when it gets really crowded.
As for registration, we think it is high time that the current system was chucked out the window. It clearly doesn't work. Dragon*Con doesn't want to mail out badges because of counterfeit concerns, but we heard reports that 30 people had already been caught with fakes on Friday. Clearly their system isn't deterring the fakers either.
We actually recommend the system Creation Entertainment uses. You print your ticket and it has a barcode. You arrive and it gets scanned. You then get a color coded gel/rubber bracelet with the convention logo printed on it. I know Dragon*Con attendees love their badges, and if they really want them, they could pay a little extra for a commemorative badge. But the bracelet would be the means of entry. You wouldn't have to worry about losing it, or having it fall off. It is durable, unobtrusive, and harder to replicate. No flipping through some large index of names and adding a sticker to the badge. It's scan and slap the bracelet on. Done.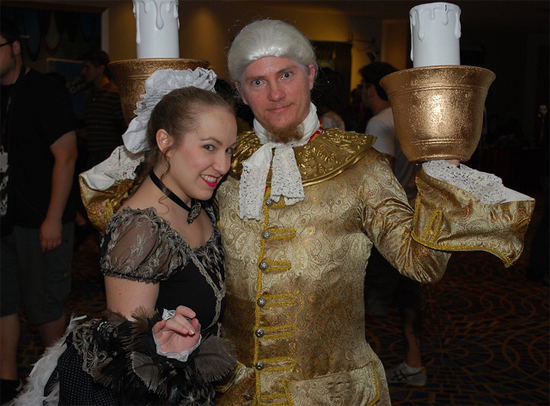 Concluding Remarks
Dragon*Con is still a convention we love dearly. It brings in so many great celebrity guests, artists, musicians, and writers. It is very much about fans and community, which is something the big corporate conventions often lack. If Dragon*Con could just make some logistical improvements, the convention would be so much more enjoyable for all of those involved. We know shaking up the status quo isn't easy, but it is time for some significant changes in how the crowds are managed. Adding another hotel won't fix the core logistical problems plaguing Dragon*Con year after year. Change is needed.
View all 500+ photos from Dragon*Con 2010 at The Convention Fans Blog flickr account!