Rob Granito Called a Fraud, Banned From Conventions
There's been a storm-wind of disgust and rage gusting through fandom and across the internet recently, all directed at one Robert Granito. It began last week with a Bleeding Cool article and culminated over the weekend in a verbal smackdown delivered at MegaCon by the irate Mark Waid and Ethan Van Sciver. Now several conventions, including Wizard World, have dropped Mr. Granito.
The name of Rob Granito may be familiar to comic convention goers. He's appeared at many conventions for a long time, often in high profile exhibit hall locations. He is reportedly known to be a "tracer" artist, which is someone who reproduces an illustration (usually by tracing – either via hand or in Illustrator) and modifies it and then sells it as their own work.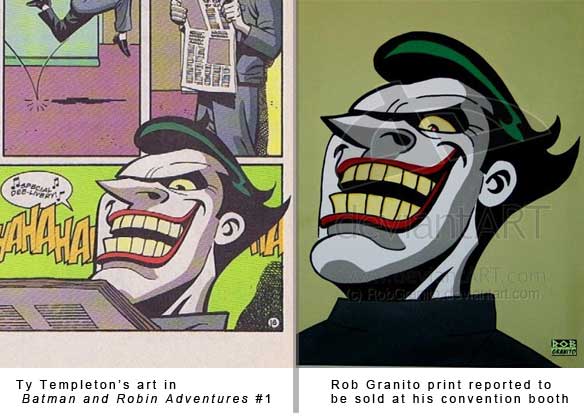 The other major thing that's getting him banned from convention exhibit space right now are the professional credits he is said to have faked. Bleeding Cool published a correspondence with Mr. Granito in which he claims to be "..working iwth Jay Diddilo on a batman title that has not yet been released." Seeing as "Jay is one of the big Writters for DC" someone besides Granito would surely have worked with him/her. Apparently they haven't, says Rich Johnston (author of the Bleeding Cool article).
In another portion of this email conversation with Bleeding Cool, Granito claims to have done the cover art for Batman: Shadow of the Bat issues 12-25 and Teen Titans issues 1-7. Those Batman covers are the known work of Brian Steelfreeze, and Dan Jurgens and George Perez are responsible for the Teen Titan art. When Rich Johnston points this out to Rob Granito, Granito claims he "…did mix work, fill in work and was a ghost artist for most of the projects…".
Perez and Jurgens told Johnston they had never heard of Granito and definitely had no assistants or ghost artists on any of the cover art in question. Meanwhile, in a separate Bleeding Cool article, Steelfreeze's studio-mate Cully Hamner confirmed the authenticity of his friend's cover work on Shadow of the Bat.
So you can see how Rich Johnston's article on Bleeding Cool really released a torrent of fan and industry pro rage. It even spawned a Facebook Page called Robert Granito Is A Fraud where pros and fans have posted further claims of being scammed and defrauded by Granito. The following is an example:

The coup de grace of all of this pro and fan wrath came last weekend at MegaCon in Orlando, Florida.
Comic artist Dwayne McDuffie passed recently and, in response, Rob Granito posted this on Facebook:

Believing that Granito was capitalizing on McDuffie's death, Mark Waid and Ethan Van Sciver marched over to Granito's MegaCon booth and gave him a stern talkin' to. As Mark Waid latter said on Facebook, "When you have comics' leading leftwing socialist hippiefreak AND comics' leading rightwing Nazi teaming up to smack you down, YOU HAVE FUCKED UP."
The upshot of all this is that, in addition to having Comics Alliance write about him, Granito has been dropped and banned from several fan conventions. Wizard World has removed his bio from their site and, Bleeding Cool reports, they have also banned him from the conventions they produce. Chiller Theater has also removed Granito from the Guest List for next month's event. Legit-O-Mite!, which tracks comics art fraud, reports that FanExpo has also banned Granito.
It's not just the big conventions that are excising Rob Granito's presence in response to the furious claims of fraud. On the anti-Granito Facebook Page, Chris Nicholas of STAPLE has announced that, should he ever attempt to register for their small indie event, Granito will be denied. He also promised to pass the word along to other local fan conventions; a screen shot follows:

No charges, lawsuits, or cease-and-desists have been filed to date so these are all only allegations.