Luke Perry Added to Dragon*con's Guest List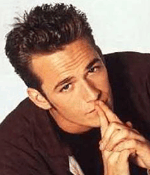 Yep, you read that right.  Luke Perry, the object of many 90s teenagers' dreams, is now on the guest list for Dragon*con 2010. I don't know if I should bring my copy of The Fifth Element for him to sign, or a 90210 t-shirt! I can't stop giggling about this, and I don't know why. I actually loved the original 90210 and The Fifth Element, but I'm just really surprised to see him showing up at a convention. Guess this poor economy really has hit everyone, even former teen heartthrobs.
I imagine most attendees at D*C would remember him for his appearance in the original Buffy: The Vampire Slayer movie. That gives him sufficient geek cred, right?
Also added recently: James Marsters, George Perez, and Doktor A. Previously announced guests include Rene Auberjonois, Jonathan Frakes, Ashley Greene, Howard Hesseman, Kellan Lutz, Armin Shimerman, Marina Sirtis, Laurell K. Hamilton, Sherrilyn Kenyon, Brandon Winn Sanderson, Donato Giancola, and John Picacio.
As always, keep checking back at www.dragoncon.org for more guest announcements. You can expect plenty more between now and this summer.