Comic Legend Stan Lee Coming to Dragon*con 2010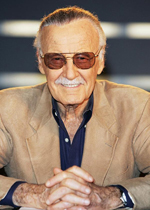 There's been a lot of mumbling about how the 2010 Dragon*con guest list was shaping up; some griped about the lack of a truly big name on the guest list. Well, I don't think they will be complaining anymore, as comic legend Stan Lee is officially coming to Dragon*con in 2010.
For those who may not be comic aficionados, Lee is credited with creating the Fantastic Four, the Hulk, Iron Man, Thor, the X-Men, Daredevil, Doctor Strange and Marvel's most successful character, Spider-Man.
Stan has been making appearances at fandom conventions across the country for the past couple years, and was most recently at Phoenix ComiCon in Arizona.
There's no word yet on whether he'll be signing, and if he does, whether it will be capped at a certain number. Update: Lee will be signing, and his autograph is available for pre-order.
As always, The Convention Fans Blog will keep you posted!