Librari-Con 2010 – An Annual North Carolina Anime Convention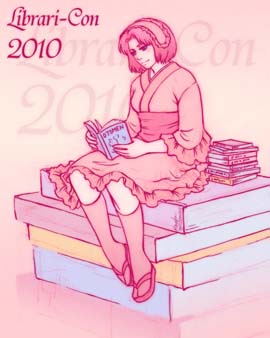 Librari-Con is an annual anime mini convention that features anime viewing, panels, forums, an artist alley, a "Chibi Corner", a manga lounge, cosplay runway, gaming, and more. Librari-Con 2010 is being held at the Headquarters Library in Fayetteville, North Carolina on September 4. The hours are 10 a.m. – 5 p.m.
This "mini" convention is designed with all ages in mind, and it is absolutely free to attend.
Special guests for Librari-Con 2010 include the Carolina Garrison of the 501st Legion of Stormtroopers, Kat Ingersoll, Danny Hirajeta, Kaysha Siemens, Ernest Stewart, and Thor Thorvaldson.
The artist alley will feature The Anime Arsenal, Cosmos Studio, Cute Fruit Studios, Divine Wrath, Eldanis Studios, Iron Clown Studio, Mousecream Studio, Nick Capiot, RCWW Studio, and Zaida Crescent.
One of the big events for Librari-Con 2010 is the Cosplay Runway show. Like many convention cosplay events, this show is about showing off craftsmanship. However, it is not a contest. There are no prizes awarded. Those who enter will have 1 minute to show off their work. Skits that include singing, dancing and/or talking, are not permitted. Sign up will be held in Commons Forum area on the second floor at 3:00 p.m. Weapons play, flashpots, explosive devices, and liquids are not permitted. Additionally, all music will be provided by the convention; no personal music may be used.
If you are an artist or studio interested in participating in the artists alley, or if you are interested in running a panel or forum for Librari-Con 2010, please contact Katharine Rankin, the Librari-Con Coordinator, at krankin@cumberland.lib.nc.us or at (910) 822-1998, ext 232.
For more information visit the Librari-Con 2010 website.