An Interview with Eric L. Watts, Founder of TrekTrax Atlanta (Part 1)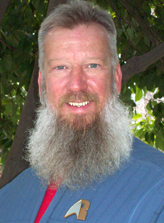 I've been attending Dragon*con for several years now, and the Star Trek programming (called "TrekTrak") was always the biggest draw for me. In fact, one year I even sent in a proposal to run a panel discussion with some friends of mine. It was then that I was introduced to Eric L. Watts, director of the TrekTrak for Dragon*con. I thoroughly enjoyed doing the panel, and continued to be a loyal TrekTrak programming attendee.
As many are probably aware by now, Watts was not asked to return to Dragon*con for 2010. It would have been his 18th year at the helm (excuse the pun). Instead, Star Trek: Voyager actor Garrett Wang is leading the new "Trek Track" programming for Dragon*con. Whereas many would have probably retired, Watts has instead founded his own Star Trek convention, called TrekTrax Atlanta, with the help of his local Star Trek club members and friends.
I asked Watts if he'd be willing to sit down and talk, and he agreed. In the interview he discusses what happened with Dragon*con, the news getting leaked, his fondest memories, the trials and tribulations of striking out on his own, and whether he plans to attend Dragon*con this year despite all that's happened. This interview is pretty long, so I've divided it up into parts for easy reading. Enjoy!
Kelly Rowles: Eric, you ran Star Trek programming for Dragon*Con for 17 years.  What is your most memorable moment from that time?
Eric L. Watts: I don't think I can give you a single moment that is the most memorable over that long a span of time, but I can certainly give you a handful of moments that I'll always remember. Some of these moments happened at Dragon*Con; others happened as a direct result of my work for Dragon*Con.
When Mayor Shirley Franklin officially proclaimed September 2, 2002, as "TrekTrak Day" in the City of Atlanta. The way LeVar Burton looked directly and unwaveringly at me with those wide-open eyes of his as he answered my questions during "The TrekTrak Show" in 2005, while Marina turned to face the audience when answering hers. An authentically garmented bagpipe player solemnly playing "Amazing Grace," followed by a five-man Klingon death howl, as a tribute to Jimmy Doohan just before the 2005 Miss Klingon Empire Beauty Pageant. When George Takei, in full "Sulu the Barbarian" costume, greeted me by name on the set of Star Trek: New Voyages when I arrived there in 2006. Being interviewed live on CNN about Star Trek's 40th anniversary, also in 2006. Asking Jonathan Frakes if he knew he was an icon in the "Bear" community during "The TrekTrak Show" in 2007, and then having to explain to him—but not the audience—what the "Bear community" was. Singing "On the Road Again" with George Takei during "The TrekTrak Show" in 2008. Kate Mulgrew commissioning the USS Exeter in 2009. Being asked by James Cawley to play Harry Mudd in an upcoming episode of Star Trek: Phase II in 2009. Dancing across the ballroom in front of the stage where William Shatner and Leonard Nimoy were sitting with the "5 Minutes" warning sign in 2009, then hearing Shatner talk about my beard, and then sitting next to him on stage, staring at the back of his head and wondering if the hair back there was real. Getting choked up on stage while shaking Nimoy's hand and trying to say, "Thank you for being here."
There are so many more… but that's already more than two handfuls. Suffice it to say that those 17 years, as a sum total, will likely remain the most memorable period of my life.
KR: When you found out that you weren't being asked back for year 18 with Dragon*Con, how long did it take you decide to strike out on your own and create your own Star Trek convention?
ELW: Ten weeks and five days. I got "the phone call" from Dragon*Con management informing me of their decision on Sunday, December 13. The decision to launch a new Star Trek convention in Atlanta was made by a group of about eight friends (all of them members of the USS Republic NCC-1371) during a dinner at Athens Pizza restaurant on Clairmont Road in Decatur on Friday, February 26. I casually mentioned during dinner that in the weeks following the news (which was, by the way, leaked to the fan press by someone else… not me), some folks had suggested, both in the online blogs as well as in email sent directly to me, that I should start a new Star Trek convention in Atlanta. The response from my friends at the dinner table was beyond unanimous… it was enthusiastic and insistent. Everyone thought it was a grand idea and promised me their full support to help make it happen. I told them it would be a huge amount of work but they all agreed to see it through. Although I had some early reservations about getting involved in such a huge new project, we nevertheless got started working on the preliminary concepts the very next day.
KR: How long did it take, from the initial idea to officially launching the con and its web site?
ELW: Exactly 13 weeks. We worked really hard and really fast to get the legal paperwork filed, to decide on a name and a date, to scout hotel locations and sign a contract, to confirm a few preliminary guest bookings and to get a web site up and running by Memorial Day weekend, which is when we wanted to launch. We issued our press release and launched our web site and Facebook page on Friday, May 28, thirteen weeks to the day after that fateful dinner at Athens Pizza.
KR: Had you considered creating your own convention before?  How long has this been an idea of yours?
ELW: Well, yes and no, depending on how you look at it. In one sense, I had already been running TrekTrak at Dragon*Con for many years as if it WAS my own convention. I even had big stage banners made with the same slogan I'd put on my web site: "TrekTrak: The Star Trek Convention at Dragon*Con!" While I never lost sight of the fact that TrekTrak was, in reality, "only" just one of many programming tracks at Dragon*Con, it had become so big and so popular, with more and bigger events than most actual Star Trek conventions, it really was almost just like running an actual convention. But beyond that fanciful delusion… no, not really. Or perhaps more accurately, no… not yet.
I had already informed most of my volunteer staff after the 2008 Dragon*Con (my 16th year) that I was going to retire from Dragon*Con after twenty years. There were a couple of things I still wanted to do with the track that I hadn't done before, and I gave myself four more years to get them done before gracefully bowing out on my own terms at twenty years, which I thought was a nice round number to go out on. There were (and are) some other things I want to do both in Star Trek fandom and in my life that I wouldn't be able to do while still working for Dragon*Con, or more to the point, while working as an unpaid volunteer for someone else. Two years ago, I was interviewed by Star Trek: Phase II eMagazine, who asked me where did I see myself in ten years. I told them:
I'd love to be able to quit my mundane day job and draw a paycheck doing something, anything, anywhere in or for the Star Trek franchise.  Maybe working for Paramount as a graphic designer… maybe working for StarTrek.com as a content producer… maybe working for Star Trek: The Experience… maybe working for some future Trek TV series as an advisor… maybe working as a programming director for one of those companies that produce Star Trek conventions around the country and around the world.  Wouldn't you like to go a major Star Trek convention and have something interesting to do besides waiting in line for an autograph or watching Yet Another Costume Contest featuring a parade of homemade Starfleet uniforms?  Let's face it, if there's any one thing that I do best, it's Star Trek-related convention programming.  I'd love to do that as a full-time job. (Source – .zip file)
So, yes… while I'd been thinking about transitioning from working as an unpaid volunteer to working for compensation at a for-profit entertainment or convention company for quite some time, I really didn't expect to be launching my own convention anytime soon. But when Dragon*Con decided they no longer desired my services, after some serious soul-searching, it just seemed like the next logical step in my lifelong career as a Star Trek fan. A couple of other, smaller, local sci-fi conventions offered me the same position I held at Dragon*Con, but I decided that if I was going to stay in the convention-running game, I no longer wanted to work for anybody else, that I no longer wanted to be told what I could and couldn't do or what I was required to do. Add to that the fact that a pure, Star Trek-only convention hadn't been held in Atlanta for more than 15 years, I figured it was about time that I finally do what I probably should have been doing all along.