Press Release: Patrick Stewart and William Shatner Together in Chicago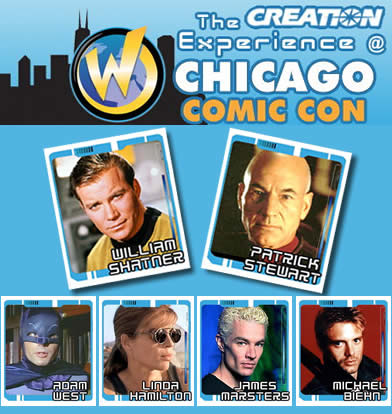 It is our great pleasure to announce that we are teaming up with the fine folks at Wizard World to co-present an amazing day of on-stage entertainment on the Saturday of their epic Chicago Comic Con (August 21, 2010). For us it is a return to the multi-property presentations we loved doing in the past and we know our fellow fans are going to be over the top excited to be in the front rows to witness some superstar on-stage appearances and events!
Wizard World Chicago Comic Con is one of the largest fan conventions in the world, filled with an outrageous line-up of vendors and exhibits, attractions and surprises. Normally because of the huge attendance (tens of thousands of attendees) patrons have had to be concerned about grabbing seats in the main theatre (or even getting in as the room capacity is under 2,000) to see the celebrities they love. Now, with The Creation Experience @ The Wizard Chicago Comic Convention we're offering reserved seating in the front rows: yours come and go throughout Saturday! Go wander the immense vendors floor, grab photo ops, go get lunch, or take a break: come back to the theatre and your seat is waiting for you! No worries, no waiting, no hassles! And, great for photographers too! PLUS: there will be a special registration area just for Creation Experience patrons when they arrive so no long wait to get in!
And, what an exciting day we have planned for YOU with a sensational line-up of superstar guests including our beloved 2 Captains: WILLIAM SHATNER & SIR PATRICK STEWART, on-stage separately and together! Other stars appearing on stage during the day include LINDA HAMILTON (of Terminator fame and the fondly remembered CBS TV series Beauty and The Beast which we loved!), ADAM WEST (TV's legendary Batman who generations grew up with like us!), JAMES MARSTERS (super-popular and cool star of Buffy, Angel, Torchwood, Smallville and more!), and MICHAEL BIEHN (Terminator and Aliens)! And, we'll have a special BATTLESTAR GALACTICA panel, a spectacular bargain filled genre no-minimum bid auction, and some surprising additions as well. Keep checking back to this site for more updates: it is gonna be outrageous!
MAKE IT SO and visit our site, do it up in style, and pick your actual seat: you can't beat that! And, already on sale are photo opportunities with Sir Patrick Stewart, the first time in the area! These are limited in number so get 'em while you can!
CLICK ON THROUGH FOR ALL THE DETAILS!
Thanks,
Your friends at Creation Entertainment