Press Release: Warner Bros. Television Group Makes Comic-Con 2010 Its Biggest Ever, Heading for San Diego With a Studio-Record 14 Series
2 July 2010
2 Comments
by Staff
Stars and Producers of "The Big Bang Theory," "Chuck," "Fringe," "Human Target," "Nikita," "Smallville," "Supernatural," "V," "The Vampire Diaries," "Childrens Hospital," "Unnatural History," "Batman: The Brave and the Bold," "MAD" and "Scooby-Doo! Mystery Incorporated" to Appear
Warner Bros. Entertainment's Nearly 3,000-Square-Foot Booth to Host Signings, Video Game Demos, Numerous Giveaways and More During the Convention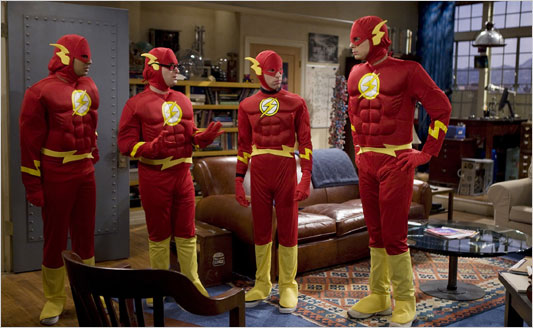 BURBANK, Calif. (June 29, 2010) – Warner Bros. Television Group (WBTVG) is returning to Comic-Con International: San Diego in unprecedented fashion in 2010. A star-studded lineup of performers, producers and other members of the creative teams of a record 14 series from Warner Bros. Television, Warner Horizon Television and Warner Bros. Animation will be on-hand for panel sessions, screenings, media appearances and autograph signings. This will mark the largest contingent of talent from WBTVG ever assembled for the world's leading pop culture convention. (In 2009, WBTVG featured 12 television series at Comic-Con.)
For continuing info on the Studio's plans at Comic-Con, please follow us on Twitter @TheWBdotcom, hashtag #WBSDCC. For the second year in a row, WBTVG will also produce a Con-related online destination at http://www.thewb.com/comiccon, launching in mid-July. For a complete social media contact list, including official Facebook pages and Twitter feeds for WBTVG series, talent and producers, download the social media contacts page here:
http://www.thewb.com/comiccon/2010WBTVGSocialMediaContacts
Series stars and creative teams scheduled to attend include:
"The Big Bang Theory": Stars Johnny Galecki, Jim Parsons, Kaley Cuoco, Simon Helberg and Kunal Nayyar join creators/executive producers Chuck Lorre and Bill Prady for a session moderated by Wil Wheaton
"Chuck": Stars Zachary Levi, Yvonne Strahovski, Joshua Gomez, Ryan McPartlin, Mark Christopher Lawrence, Vik Sahay, Scott Krinsky, with Sarah Lancaster and Adam Baldwin join creators/executive producers Josh Schwartz and Chris Fedak
"Fringe": Stars Anna Torv, Joshua Jackson, John Noble, Lance Reddick, Blair Brown and Jasika Nicole join executive producers Jeff Pinkner and J.H. Wyman
"Human Target": Stars Mark Valley, Chi McBride and Jackie Earle Haley join executive producer Matthew Miller
"Nikita": Stars Maggie Q ("Mission: Impossible III"), Shane West ("ER") and Lyndsy Fonseca ("Kick-Ass") join executive producer Craig Silverstein ("Bones")
"Smallville": Series stars to be announced join executive producers Kelly Souders and Brian Peterson
"Supernatural": Series stars to be announced join executive producers Sera Gamble and Ben Edlund, and creator/executive producer Eric Kripke
"V": Stars Elizabeth Mitchell, Morris Chestnut, Joel Gretsch, Logan Huffman, Laura Vandervoort, Charles Mesure, with Morena Baccarin and Scott Wolf join executive producers Scott Rosenbaum and Steve Pearlman
"The Vampire Diaries": Stars Nina Dobrev, Paul Wesley, Ian Somerhalder, Michael Trevino and Matt Davis join executive producers/writers Kevin Williamson and Julie Plec
"Childrens Hospital": Creator/executive producer/star Rob Corddry ("Hot Tub Time Machine," "The Daily Show with Jon Stewart") and executive producer Jon Stern ("The Ten," "Scotland, PA") join series stars Lake Bell ("How to Make It in America"), Erinn Hayes ("Parenthood," "Worst Week") and Rob Huebel ("Human Giant"). A website for the series will go live July 6 here: http://www.adultswim.com/shows/childrenshospital
"Unnatural History": Stars Kevin G. Schmidt ("Alvin and the Chipmunks: The Squeakquel"), Jordan Gavaris ("Degrassi: The Next Generation"), Italia Ricci ("Greek") and Martin Donovan ("Weeds") join creator/executive producer Mike Werb
"Batman: The Brave and the Bold": Voice of Batman Diedrich Bader joins executive producer Sam Register, producers James Tucker and Michael Jelenic, and voice director Andrea Romano
"MAD": New "MAD" animated television series producer/story editor Kevin Shinick ("Robot Chicken") and Warner Bros. Animation executive Peter Girardi join MAD Magazine editor John Ficarra, art director Sam Viviano, legendary artist Sergio Aragones and contemporary artist Tom Richmond
"Scooby-Doo! Mystery Incorporated": Supervising producers Spike Brandt and Tony Cervone join producer Mitch Watson and art director Dan Krall
For additional panel details, including the complete schedule with times and locations, please download the addendum word document here:
http://www.thewb.com/comiccon/2010WBTVGPanelDetails
THEWB.COM/COMICCON
Warner Bros. Worldwide Television Marketing is once again launching http://www.thewb.com/comiccon, designed to provide fans with a one-stop-shopping source for Warner Bros. Entertainment (WBE) information as they plan their Comic-Con experience, as well as to serve as a must-visit destination for fans to attend the Con in virtual fashion, if they are unable to travel to San Diego this year.
New content related to Comic-Con 2010 – including exclusive video and an advance schedule of panels, signings and screenings from all divisions of WBE – will be launching in mid-July.
Photos and exclusive behind-the-scenes video from Comic-Con 2010 will be posted to the site throughout the duration of the convention.
Highlights from Comic-Con 2009 can be viewed at the site now, including more than 30 behind-the-scenes video reports from the convention floor, the Studio's booth, panel sessions, signings and more.
THE BOOTH
Warner Bros. Entertainment (WBE) will once again have a can't-miss, nearly 3,000-square-foot booth on the convention floor, this time in a brand-new location: space #4545. As usual, the booth will host autograph signings by the stars and creative teams of all WBTVG shows, with multiple interactive kiosks for fans to play video games from Warner Bros. Interactive Entertainment, and much, much more. Additional details about the booth will be released in the coming weeks.
THE TV SERIES SCHEDULE
WEDNESDAY, JULY 21
Special Sneak Peek Pilot Screenings: WBTVG continues its Comic-Con tradition of hosting a three-hour special sneak peek premiere event on preview night, this year offering fans two opportunities to screen one of the fall season's most highly anticipated new series: "Nikita," starring international action star Maggie Q. In addition to "Nikita," WBTVG will unveil special video presentations related to its other series.
THURSDAY, JULY 22
New series "Childrens Hospital": Screening multiple new episodes in session
FRIDAY, JULY 23
"Batman: The Brave and the Bold": Screening complete never-before-seen new episode in session and unveiling the trailer of the upcoming new animated series "Young Justice"
"The Big Bang Theory"|
SATURDAY, JULY 24
"Chuck"
"Fringe"
"Human Target"
New animated series "MAD"
New series "Nikita": Screening complete pilot in session
"V"
"The Vampire Diaries"
SUNDAY, JULY 25
New animated series "Scooby-Doo! Mystery Incorporated": Screening full-length, never-before-seen new episode in session
"Smallville"
"Supernatural"
New series "Unnatural History": Screening full-length, never-before-seen new episode in session