Lebowski Fest Heads to Tampa, Florida for 2011!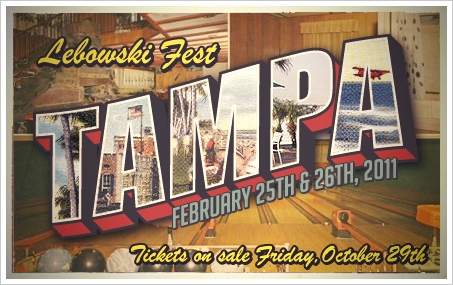 The Lebowski Fest celebrates all things related to the Coen brothers' cult comedy The Big Lebowski (1998) with unlimited bowling, costumes, trivia contests, white russians, oat sodas, a movie screening, special guests, performers, and what-have-you.
Each year fans of the Big Lebowski Film (a.k.a "Achievers") come from far and wide for this annual two-day party celebrating their favorite cult classic film. The first day of festivities concludes with a showing of the film in the evening, and the second with an all-night bowling party.
The First Annual Lebowski Fest was held 2002 in Louisville, but subsequent Fests have been held across America (and twice in Britain). And now, for 2011, the Fest will be heading to Tampa, Florida, for the first time ever!
When: February 25-26, 2011
Where: Tampa, Florida (first day @ The Ritz, second day @ University Lanes)
The Lebowski Fest was conceived by "the Founding Dudes", Scott and Will. In 2002 they had a booth at the tattoo expo and things had gotten pretty dull. To relive the tedium of a slow expo they started quoting lines from The Big Lebowski, which drew in the other vendors around them and suddenly a slow event turned into a spontaneous mini-party filled with camaraderie between complete strangers. Among the swirl of bicep tattoos and peculiar piercings it occurred to the "Founding Dudes" that if there can be conventions for tattoos and lord knows what else, then why not one for people who love The Big Lebowski.
Like a famous dude once said, "if you will it, it is no dream."