Boston Comic Con Moves to New Location for 2011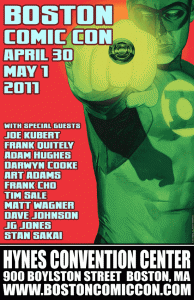 The Boston Comic Con is moving! They'll be bigger than ever for their 2011 event (April 30 to May 1), which will now be held at the John B. Hynes Veterans Memorial Convention Center.
That's, uh, kind of a mouthful. Let's just call their new location the Hynes Convention Center. Much more wieldy.
Regardless of what you call it, though, the Hynes' 193,000 square feet of flexible exhibit space means more artists and dealers for the Boston con than ever before. Whoo hoo!
The guest list for the 2011 event is looking pretty sweet, too. So far the names listed are Joe Kubert (Sunday only), Frank Quitely, Adam Hughes, Frank Cho, Tim Sale, Darwyn Cooke, Matt Wagner, Art Adams, Mark Brooks, Dave Johnson, Tony Harris, J.G. Jones, Gahan Wilson, Ryan Ottley, Stan Sakai, David Mack, Terry Moore, Mark Chiarello, Sean "Cheeks" Galloway, Stephane Roux, Howard Chaykin, and Khoi Pham.
Registration for the Boston Comic Con is currently open. One and Two Day passes are available. Kids 10 and under admitted for free.