Only 17 Days Until Animation on Display 2011!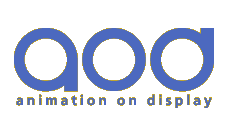 This finishes in the top ten of my "Why Are You So Far From San Diego, San Francisco?!" list. (I know, it's got something to do with geology)
Animation on Display is a fabulous looking convention. A veritable feast of recent American cartoons, Japanese animation, video games, and associated delights.
Taking place in the heart of San Francisco's Japantown. At the Kabuki Hotel (which is near the Kabuki Theater, neither of which have anything to do with actual kabuki.)
I wanna go! Stupid economy *pouts*
Ahem! Anywho….
Animation on Display (AOD) takes place this month during President's Day Weekend. That's February 19-20 for those of us who don't measure the calendar year in holidays.
Pre-reg by this Saturday, Feburary 5, for a $5 discount on full admission price ($25 opposed to the $30 at door). One day tickets are available. Kiddies under age 10 are free if they accompany an adult with a paid pass.
Some of the highlights for this year's AOD convention:
It's the first official stop on Harmony Gold's 2011 Robotech Convention Tour. Tommy Yune (Creative Director) and Kevin McKeever (Marketing Coordinator) will be there as they remember Carl Macek, whose last convention appearance was at last year's Animation on Display.
Return of the Swap Meet, where individual fans can sell their items.
They've leveled up their night time events; Masquerade Saturday night, Comedy Show, Celebrity Jeopardy! (with a few of their Guests), and an Anime Burlesque Workshop/Performance.
Voice actors from Starcraft 2- Neil Kaplan (Tychus Findlay), Robert Clotworthy (Jim Raynor), and James Harper (Arcturus Mengsk)
The convention debut of Hideo: A Theatrical Concert Featuring Japanese Anime and Video Games. This is an orchestral chamber group that specializes in theme songs from anime and video games. They performed last fall at Zellerbach Hall in Berkeley to rave reviews and we'll be the first convention they perform at.
etc.
If only California already had that highspeed commuter train we voted for… *heavy sigh*