Tolkien Moot Announces Tentative 2011 Dates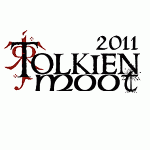 Tolkien Moot is an annual convention, usually held in Washington, that is dedicated to J.R.R. Tolkien enthusiasts, gamers, and scholars. Good 'ol JRR is the author of such fantasy works as The Hobbit and the Lord of the Rings trilogy, which you may have heard of.
Oh, and his works sort of inspired D&D. And are largely responsible for setting the default fantasy races.
The Moot began life as MerpCon back in 2005, officially changing it's name to Tolkien Moot in 2010. So 2011 will be the con's second year as Tolkien Moot.
The convention has also done the seemingly impossible by remaining absolutely free to the public for its six year history, all thanks to the hard work and personal financial contributions of the convention's dedicated volunteers. An impressive feat I hope they continue to maintain.
Like other fan conventions there are knowledgeable guest speakers and performers and such. However,
the Moot is unique for the sheer quantity of role playing games offered that are based in the various worlds of J.R.R. Tolkien's universe; Middle-earth, Endor, Arda, and Eä.
Tolkien Moot 2011 is currently scheduled tentatively for June 24-26. Their latest news indicates that the convention will probably be held in Spokane, Washington, again.