IQA to Host Quidditch Activities at Aeternitas 2011
Harry Potter convention Aeternitas, has turned to Quidditch World Cup organizers IQA to provide programming on this magical sport for their 2011 event this April 28 to May 1.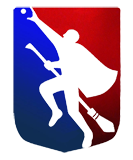 For those of you unfamiliar with the International Quidditch Association (IQA), they created rules for "ground quidditch" and hold the annual Quidditch World Cup where high school and college teams compete. And, yes, you have to 'ride' a broom when you play.
Aeternitas is a four day Harry Potter themed event situated on Lake Winnipesauke in New Hampshire. The con entirely fills the family-owned hotel, Margate Resort, that is their venue. Meaning that the only people you encounter are other conference attendees. Pretty cool.
In their continuing quest to highlight as many aspects of Potter fandom as possible, the organizers of Aeternitas have worked with IQA staff to provide a playing pitch and equipment for quidditch. IQA staff will also provide a thorough introduction to "ground quidditch" for Wizards and Witches who have yet to experience the sport.
So, basically, you can totally play quidditch at Aeternitas this year. And, sure, you can't experience the actual flying part of the Wizarding World's favorite sport but …
For those interested in competing, Kristina Moy of the IQA will teach an introductory course on "How to Create and Manage Your Own Quidditch Team". So interested con-goers can bring Quidditch to their high school, college or community.
Plus, the quidditch pitch will be open for pick up games most of Friday and Saturday.
And that, that is just way awesome.