Chicago's Zombie Pub Crawl This Month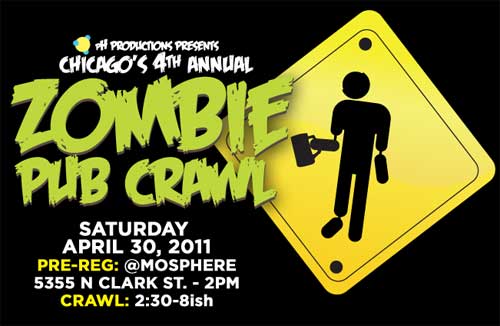 The 4th annual Chicago Zombie Pub Crawl (CZPC) is April 30, a Saturday, from 2:30 to 8:ish.
Why? Because sometimes the shambling hordes need a good Guinness.
That, and dressing as a zombie and hitting several bars with a bunch of strangers also dressed as zombies is just plain cool.
The Zombie Pub Crawl is an adult twist on the Zombie Flash Mob phenomenon (where people 'randomly' convene at a prearranged spot and shamble about or dance to "Thriller" and then vanish as suddenly as they came).
CZPC is held in Andersonville, a self-described quaint neighborhood in Chicago. The event is organized by pH Productions and is inspired by other such pub crawls.
Registration and check-in starts at 2:pm. The participation fee is $20 for pre-registration and $25 the day-of. Registration gets you a t-shirt as well as participation. To participate you must dress up to some level of zombification.
And, rather obviously, you MUST be 21 or over to attend. Wandering bar to bar is very anti-child-participation. Plus zombie children are just WAY too creepy.