The Conventionist App Puts Con Schedules in your Palm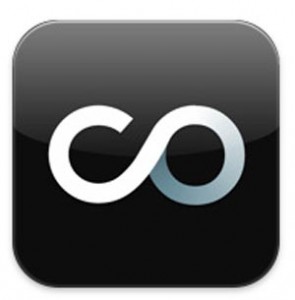 Going to Anime Boston this weekend? Have a smartphone? Want to know what's going on but need one less thing to juggle? You're in luck, 'cuse there's an app for that.
The Conventionist is a FREE smartphone application, available for both iPhone and Android platforms (the two biggies in the market right now). It allows events to put their con's info in a handy form for attendees' mobile devices; Schedule, Maps, Exhibitors, Events, To Do List, etc.
Many of the BIG conventions have had their own individual apps for years, of course; Comic Con, Anime Expo, etc. (OMG, it was so bleeding cool using my friend's iPhone two years ago to view the Comic-Con schedule AT the convention center. Total geek moment.) Not all fan events are big time enough to afford the cost of developing their own, individual application, though.
That's where Conventionist comes in.
Conventions partner with The Conventionist to put their event info in a handy 'guide' that you download to the application. So the information is always up to date.
Once you have the app installed on your phone you just click the "Download Guides" button, scroll through the list and select the con you want the guide for.
But wait, it gets better.
So, you're looking at the Anime Boston schedule in the event's guide in the Conventionist app and you see a panel you want to go to. Tap the "Add to My Events" button at the bottom of the panel's description and it'll add it to the "My Schedule" menu, which is your personal schedule for the convention.
WhoooHooo!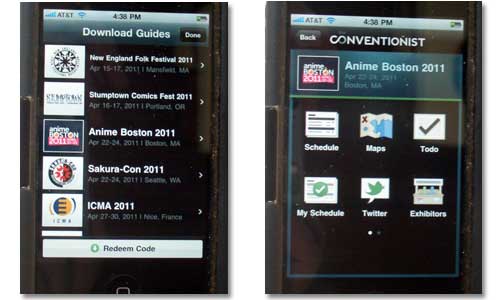 And when the convention is over you can easily delete the guide from Conventionist.
Fan Cons the Conventionist App Currently Has Guides For
Here's a quick list of some of the fan events that the Conventionst iPhone/Android app has Guides for:
Anime Boston
Emerald City Comicon
Anime Los Angeles
PAX
TooManyGames
Pi-con
Collosalcon
Stumptown Comics Fest
Sakura-Con
and more…
App Details
The Conventionist is developed by Proxima Labs. It is available for the iPhone 4 as well as the various smartphones running Android.
Conventionist is free. They welcome events to partner with them.
You can get it from the iTunes App Store, the Android App store, or visit the Get the App page on the Conventionist site.
Is this app on my phone? It most certainly is.
Update 5-13-11: the software has changed names. It is now called Guidbook instead of Conventionist.