Online Registration for Gaslight Gathering Closes Saturday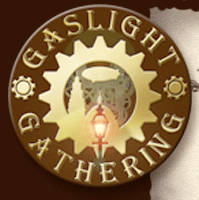 I've just been notified that pre-registration for Gaslight Gathering, California's newest steampunk convention, will close at 11:59 Saturday evening, April 30 (that's tomorrow night). That's mere hours left to get your tickets ahead of time for the May 6-8 event in San Diego. In addition to not being able to get tickets online after Saturday, there are also two big events that you must buy tickets for ahead of time.
Saturday Night Steampunk Concert
You can not buy tickets at the door for this Gaslight Gathering Event. So snagging a ticket online before pre-reg closes Saturday will save you the rush of trying to get one on Friday (I assume from the data I have that they're still selling them onsite, just not at the door to the event).
The info I have also indicates you can buy a special one-event-only "boarding pass" just for the Concert, that you don't have to have a membership to the convention to see the pretty music people play.
The steampunk concert they've put together has a great lineup, including San Diego locals Steampowered Giraffe and 6 String Samurai. The two other great bands for this event are San Francisco-based Vernian Process and LA Music Award winners Jon Magnificent.
Sunday Afternoon Mother's Day Ice Cream/Sweets Social
Gaslight Gathering happens to fall during Mother's Day, so what better way to celebrate than hanging with the 'ol female parental unit at a Victoriana-themed ice cream social. You buy a ticket for $15 and Mom gets in free.
Entertainment for the Social includes a Victorian Fashion Show.
Tasty celebratory comestibles range from ice cream floats to candied apples and popcorn.
The event is Sunday, May 8. And, like the Saturday Concert, you don't have to have a convention membership to buy a ticket to just the Mother's Day Ice Cream Social.
Other Sundry Delights
Other points of Gaslighty interest are a Time Traveler's Masked Ball, roving buskers and street performers, panels, The Adventurer's Club Steampunk Tea, and other assorted steampunky goodness. I'm so excited.
Gaslight Gathering is May 6-8 in San Diego and hill be held at the Town & Country Hotel (the portion of the complex over by the steak house). Online registration is open until 11:59 Saturday, April 30. After that registration will be online. There are special events that require an additional ticket. You can buy a special "boarding pass" just for an event.