Win a Pizza Cutter Shaped Like the Enterprise at StarTrek.com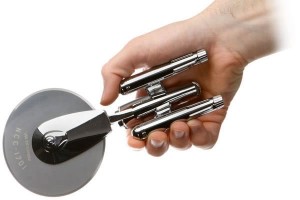 Good news for fans of both Star Trek and pizza! StarTrek.com, the official Star Trek website, is pairing with ThinkGeek to give away pizza cutters shaped like the famous Starship Enterprise to ten lucky fans.
Product Details
Here's ThinkGeek's write up on the pizza cuter shaped like the NCC-1701 Enterprise ship from Star Trek (the original series):
Space… the final frontier. These are the voyages of the starship Enterprise. Its five-year mission: to explore strange new pizzas, to seek out new toppings and new cheeses, to boldly cut pizza where no man has cut before! Yes, this officially licensed Star Trek collectable is everything you hoped it would be. Laser etched stainless steel blade and solid metal construction make it perfect for battling Romulans in the neutral zone or precision pizza slicing.

You'll find that even though the prime mission of the Enterprise has now become very pizza centric, the chrome plated metal construction and padded gift box make the Enterprise pizza cutter a true Star Trek collectable. Plus it looks great on your desk even when not being used to cut your favorite cheese and sauce laden foods.
Contest Details
The Star Trek Enterprise Pizza Cutter Sweepstakes is open to all residents of the following countries: America (just the 50 states and District Columbia – sorry Puerto Rico), Canada (except Quebec), the United Kingdom, and Germany. Said residents of the select countries must be in the 18-years-old and over age bracket. See the official Star Trek Sweepstakes rules for further legalities.
Contest ends May 27.
How to Enter
Go to the Sweepstakes page and answer the question "What kind of pizza would you cut with the Star Trek Enterprise Pizza Cutter?" in that page's comments sections.
My favorite answer entry so far:
I think that one takes the cake. Can you top it? (sorry, I'll stop the puns now)