BlizzCon 2011 Tickets on Sale May 25, Second Batch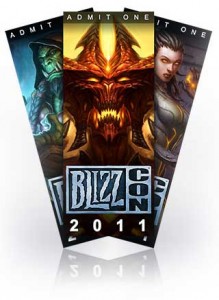 Planning to go to BlizzCon, the annual fan fest Blizzard holds for their hugely popular computer games and MMPORGs (Diablo, World of Warcraft, Starcraft, etc.)?
You've got two days before ticket sales open up again.
For their 2011 convention BlizzCon is selling tickets in two batches. The first ticket sale batch was on May 21. The second and last ticket sale event will be this Wednesday, May 25 at 7:00 PM (Pacific Time).
Right now the registration page is just an information slate with a FAQs and general Store link. But at 7 o'clock at night P.S.T. on May 25 the link will open the actual ticket purchase site.
Ticket prices are $175, with a limit of 4 tickets per household as an anti-scalper measure. Which may cause those buying for both their households and their circle of friends a little headache if they don't plan properly.
Also, Blizzard does NOT mail tickets. Like ComicCon, the event will send a unique barcode email for each ticket purchased. And, like ComicCon, the barcode must be brought to the show's registration area to redeem for an event badge. BlizzCon sends theirs out about one month before the convention, and also stores a version of the ticket in the purchaser's Battle.net account. If you need to make a change to a ticket you must bring the actual physical credit card that was used to purchase the ticket to the Registration area at the show, no photocopies or other facsimiles will be accepted.
NOTE: You must have Cookies enabled on your browser in order for the ticket sale site to work. If you have no idea what that means than don't worry, you're good. It's just to do with something some geeks do that they'll need to undo in order to buy BlizzCon tickets.
And for those of us who can't physically make it to Anaheim for this massive computer gaming extravaganza there is a Virtual Ticket that you can buy to view the live feed of panels and such.
As has become standard for big conventions these days, BlizzCon tickets are non-transferable. They're also non-refundable. Kids under 5 not welcome, and any 12-and-unders must be glued to a suitable adult unit at all times (metaphorically speaking, that is, so put the Gorilla Glue down).
BlizzCon will be held October 21-22, 2011, at the Anaheim Convention Center in Anaheim, California.