Sophie Aldred Special Guest at TimeGate This Weekend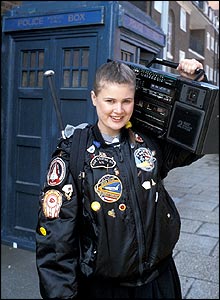 This weekend is the Memorial Day holiday and among the many great fan conventions scheduled is TimeGate, a celebration of Doctor Who, Stargate and everything in between.
And who should be their top billed Guest this year but Sophie Aldred who played companion Ace opposite Sylvester McCoy's 7th Doctor, THE best Doctor/companion pairing in my opinion. (okay, fine, of the CLASSIC series, than. Yeesh, I could feel the pro-Rose/10th Doctor rays burning through my monitor. There's GOT to be some sort of anti-death glare filter I can get for my screen)
The note on the Guests page indicates that "Sophie's appearance at TG 2011 is work schedule permitting." The convention is mere days away, though, and no news on the site contradicting her appearance at TimeGate 2011 so I'm thinking the 'ol work schedule is permissive.
Other Guests for TimeGate 2011:
Mike Dopud (Stargate Universe) This is Mike Dopud's first convention appearance
Melissa Scott (author of novels set in the Stargate Atlantis universe)
Kelly Yates (comic book artist for Amber Atoms, Doctor Who: The Forgotten)
Heidi Arnhold (artist, Dark Crystal and Star Trek mangas)
David Read (co-editor in chief of Gateworld.net)
Louis Robinson (singer/songwriter, former BBC writer/producer)
Mike Langford (Professor Satyre's Sci-Fried Side Show)
Andy Runton (comics creator/writer of Owly)
Bobby Nash (author of novels, comics, graphic novels and more)
Anthony Taylor (author of The Future was FAB: The Art of Mike Trim)
Jana Oliver (author of the Demon Trappers saga and Time Rovers trilogy
James Palmer (author, editor, copywriter, journalist)
Debbie Viguie (author of the Wicked series and Crusade)
Scott Viguie (archaeologist, Doctor Who podcaster)
Dan Johnson (comics writer, columnist)
Davey Beauchamp (author, librarian, podcaster)
Mark Maddox (comics / magazine illutrator)
Diana Dru Botsford (author os novels set in the Stargate universe, television writer / producer)
Berta Platas amp;Michelle Roper (authors of the Faire Folk Trilogies)
Earth Station One (podcasters)
Eric Watts (Fan Guest of Honor – Star Trek convention organizer)
Jennifer Breland-Dykes (Dragon*Con Stargate Track Head)
Jason "PK" Levine
Andy Vetromile
PLUS appearances via live satellite by writers Joseph Lidster (Doctor Who, Torchwood, Sarah Jane Adventures) and Ben Aaronovitch (Doctor Who 1988-1989, the Aldred/McCoy years).
TimeGate is a Doctor Who/Stargate/science fiction convention held annually. Their 2011 event will be held May 27-29 (Memorial Day weekend) at the Holiday Inn Select in Atlanta, Georgia. ONLINE registration is currently closed, but they should be still selling onsite tickets.