Exclusive C3 Patch Benefits Autism Research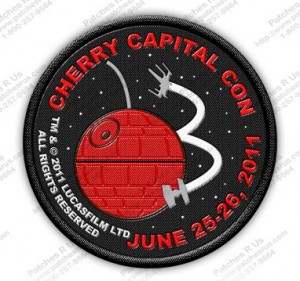 This weekend, June 25-26, is the CherryCapitalCon (C3) in Traverse City, Michigan. C3 is a comic con that describes itself as:
…a comic book convention that celebrates the medium of comics, rather than a specific genre. At C3, all comics are equal, as are their creators and their fans. The organizers of C3 intend to prove to the world that comic conventions – just like comic fans and the comics, themselves – don't have to be "this" or "that". They can just be what they are…which is simply "cool".
In addition to this emphasis on equality, CherryCapitalCon also aims to benefit charities. Something that's wonderfully common among fan conventions. However, for 2011 C3 is aiming to do that in a slightly atypical fashion; they're selling an exclusive convention-themed patch with proceeds to benefit their chosen charity '11, the Autism Research Network (ARN).
The exclusive C3 charity patch is Star Wars themed, with a cherry-red Death Star being fought over by an X-Wing and a TIE Fighter. The convention's name and the 2011 dates wrap around the edges of the circle-shaped black patch. It looks pretty cool and I kind of wish I could get one, but you have to purchase them onsite at C3 and it's kind of a long drive from California to Michigan.
The exclusive Star Wars C3 patch will sell for a mere $5.00 at the 501st booth. There are only 100 available so I'd recommend making this your first stop in the Exhibit Hall at the CherryCapitolCon if you want one.