2012 Marks Last Official Xena Convention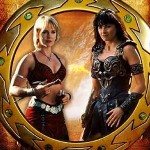 Creation Entertainment, the big production company behind the majority of official fan conventions in America, announced Tuesday, June 28, that 2012 will be the last year of their official Xena: Warrior Princess convention.
Creation debuted their first Hercules/Xena convention back in 1997 (Burbank, January 11-12, 1997 – to be precise). By '99 it looks like Creation made it just the Xena fan event. And June 28 of 2012, an impressive 15 years later, the convention will have it's swan song at the same Burbank hotel of its debut.
I suppose it was bound to happen at some point; so many cult favorites fade into the background of the fan consciousness. To the point that attendance levels just aren't at the level that a business like Creation Entertainment can accept and still remain profitable. So many media property fan events eventually meet this fate, since very few can maintain the consistent popularity levels of fan favorites like Star Trek, Doctor Who, and Star Wars.
And now Xena Convention's turn for final curtain has come after nearly two decades.
One can only speculate whether currently hot con properties like Twilight, Vampire Diaries, and Supernatural will be able to match or surpass this longevity before they fade away as well, or if they'll achieve the same lofty position of the perennial fan convention favorites.
The press release Creation Entertainment put out is an almost sweet eulogy for their Xena convention:
It has truly been a life changing experience for us to be involved with the amazing cast and crew of a television series that has meant so much to us all, and in reality, changed the face of TV itself. Through this joyous experience we came to know and love Lucy, Renee and Rob and all their co-stars and production team. There has never been a more supportive group nor one that has cared so deeply about their fans. They never let us down and it has been an honor to produce all of The Official XENA Conventions and merchandise all these years.

And we thank Lucy and Renee for always stretching beyond what used to pass for convention appearances by doing plays, appearing in costumes, surprising the audience, singing and dancing in concert, and so much more. They raised the bar for EVERY other convention celebrity from that point forward and for this and so much more they will remain vital and dear friends to all of us at Creation and throughout the fan universe.

As with all good things the time comes to raise a glass one last time and say goodbye with love and a heartfelt and tearful thank you. The 2012 convention, the final journey, brings us full circle to our return to our original Xena Convention venue, the Marriott Burbank Airport Hotel and we promise one last rocking good time for all! NOW is the time to make your plans to be part of "The Final Journey" as the dates are set: JANUARY 27-29, 2012. You can even pick out your actual gold weekend seat in our theatre with our new seating plan ticketing system.
I'm in an almost maudlin mood now (the music playing in the Starbucks isn't helping, either), and I never attended any of the Xena Cons. But it's a sad moment in fandom when any convention closes it's doors.
Creation's Xena Convention: The Final Journey will be held January 27-29, 2012 at the Marriott Burbank Airport Hotel. Registration is currently open.