Gam3rCon Kicks off Comic-Con Week with Dr. Horrible's Sing Along Blog-Live!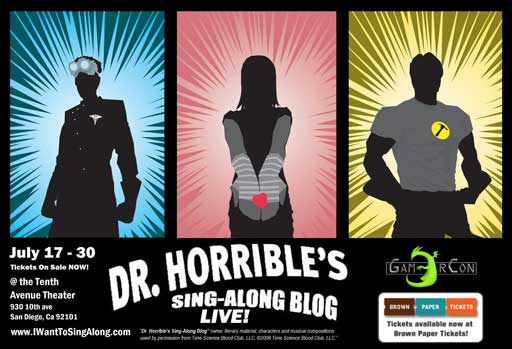 Great news for you Dr. Horrible fans coming to San Diego this June for Comic-Con (and you fans living in SD). Gam3rCon, running concurrently with Comic Con, is presenting Dr. Horrible's Sing Along Blog – Live! at the Tenth Avenue Theater starting July 16.
For those of you somehow unfamiliar with the web-born sensation, Dr. Horrible is a musical tragi-comedy about a supervillian's origin story. It's another dynamite Joss Whedon project, from 2008. As a sample, it has an evil horse with a theme song and a sort-of-love-song about a freeze ray.
For the 2010 SDCC the California Brown Coats did a huge showing of Dr. Horrible's Sing Along Blog at Con. Complete with cardboard Dr. Horrible goggles and a booklet of lyrics and audience call outs for everybody. It was pretty sweet.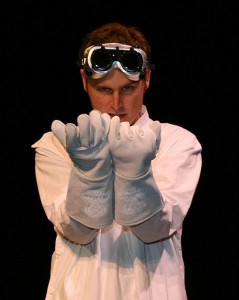 But Gam3rCon, a brand new gaming convention running in downtown San Diego the same week as Comic-Con, has upped the Dr. Horrible fandom ante for 2011. They've paired with Chinese Pirate Productions to bring Dr. Horrible's Sing Along Blog – Live! to San Diego. They've even cast San Diego performers in this fan driven stage adaptation of the internet hit.
The first performance kicks of Comic-Con week on July 17 with a special double feature opening night event (though there's a preview performance on the 16 for only $20); Dr. Horrible and, after intermission, Gam3rs: The Play. The big opening night performance on the 17th starts at 7:00pm and there will be NO late seatings.
Dr. Horrible's Sing Along Blog – Live! and Gam3rs: The Play will be performed in downtown San Diego at the Tenth Avenue Theater/Gam3rcon. The show will be running July 16 to July 30 and tickets run either $30 or $40, it's a bit confusing which since the press releases say one and the ticket site another. At any rate, it's $35 at the door so I'd just buy them that way to avoid the confusion.
I am TOTALLY looking forward to seeing Dr. Horrible live. *squee*