Third Annual Comic-Concert in San Diego Thursday, July 21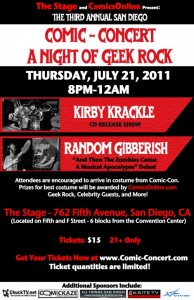 Local San Diego comic shop CoimcKaze (my favorite place in town for graphic novels) in hand with ComicsOnline.com, The Stage, and several others are sponsoring a comics-themed concert the Thursday night of Comic-Con 2011.
Another great event celebrating Comic Con, whether you're a local not attending Con this year or if you've come all the way from Peru to attend SDCC. As long as you're in the 21 and over age group.
The third annual Comic-Concert: A Night of Geek Rock will be July 21 from 8:00pm to midnight. The venue, The Stage, is six blocks from the Convention Center.
Attendees are encouraged to come to the Comic-Concert in costume, ESPECIALLY the ones with Comic-Con badges. ComicsOnline.com will be awarding prizes for best costumes to concert goers, while Vivid will be giving awards for "Sexiest Costume at Comic-Concert".
In addition, each guest will receive a DVD copy of SuperXXXHeroes, compliments of Vivid, while supplies last.
Featured bands are Kirby Krackle, nerd rock band from Seattle, and geek comedy band Random Gibberish. Plus their will be as-yet-unannounced celebrity guests and MC.
Tickets are $15. State ID or Passport required at the door because venue is 21+ only.