Atomic Lollipop Convention Offers 24 Hours of Anime, Music & Carnival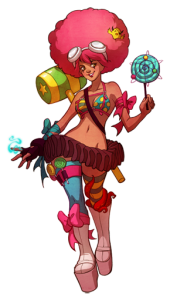 If you are in the Toronto area from July 29th to the 30th, and suffering through a Comic Con hangover, here is a bit of the "hair of the dog". Come to the Atomic Lollipop Convention and enjoy 24 hours of high energy events ranging from anime, manga, DJ music, gaming, carnival rides and circus acts.
The convention portion, Atomic Con, will also be host to the Canadian Cosplay Cup (C3) 2011.
There is a distinguished list of DJs spinning music from the Tokyo music scene making sure the dance party lasts well into the morning. You can purchase a slew of items from the marketplace and you will be entertained by circus acts or the carnival located at the Sheraton Toronto Hotel and Convention Centre.
To top if off, you will then be able to attend the Massive Free pancake picnic on Sunday morning.
Atomic Lollipop is billed as a sensory overload for all attendees and the ultimate summer adventure.
If these seem like your cup of tea, make your way over and be ready for non-stop events starting on Saturday July 29th to Sunday July 30th.