Dragon*Con Releases 2011 Progress Report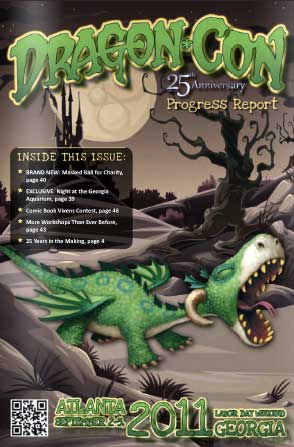 Dragon*Con is just weeks away (well, 1 month, 0 weeks, and 5 days – but who's counting?). The massive fan convention focuses on science fiction, fantasy, gaming, comics, literature, art, music, and film.
For those you eager for specifics and details of the upcoming 2011 Dragon*Con you can now start making your plans. They've released their Progress Report for 2011, a 60-page booklet detailing the latest on guests, fan tracks, contests, dealers/exhibitors, and other event related information.
The Progress Report is in the mail, and should be showing up at comic book stores around the convention's hometown of Atlanta. For those of you who can't wait, or are weighing whether to go or not, the Dragon*Con Progress Report is available online as both a downloadable PDF and a fancy interactive presentation.
Isn't technology a wonderful thing.
Though, I should warn you that the digital version of the Progress Report is a hefty 4.8 MB so don't assume it's not working just because it's taking forever and a day to load.
Dragon*Con 2011 is scheduled for Labor Day Weekend, September 2-5, and will be held in Atlanta, Georgia. Registration for the mega fan event is currently open, though you can only buy full passes online; single day memberships can only be bought onsite at the convention.