STRIP This Weekend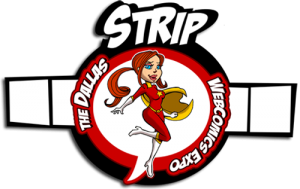 For you fans of webcomics in the southwest you can sate your love this Saturday at STRIP: The Dallas Webcomics Expo. Which, oddly enough, is not actually held in Dallas this year.
There are lots and lots of comic conventions out there, but a scant few that focus solely on the phenomenon of webcomics. STRIP is one of those. 2011 is their third year, it started life back in 2009 as DWEX.
The webcomic event is not panel heavy, though there are Activities like a Live Art Show, Cosplay Contest, and After Party. The main focus, though, are the Exhibitors; all the webcomic creators looking to show off their babies.
STRIP will be held on August 6 of 2011 at the Southfork Hotel in Plano, Texas. Admission is a whopping $4.oo, making it a great activity for the comics loving family. And it leaves you plenty of green in the 'ol wallet for books. Yay!.