Read Comics in Pulic Day Events for 2011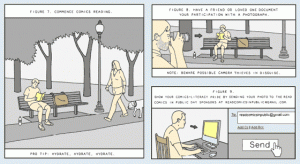 YES, it is once again time for the annual Read Comics in Public Day (RCPD). Grab your comics and graphic novels this Sunday and head somewhere public to show off your love of the sequential arts.
Last year, 2010, was the first ever RCPD. I made a Facebook event and invited all my friends, but it was just a handful of us at a Starbucks. Though, I have to say, I'm rather pleased that I got a random dude sitting nearby with his latte to read a comic with us (had a BIG pile to share).
This year looks like RCPD will be much bigger everywhere. Heck, just my little Facebook event for San Diego has double the number of people it did last year.
Some meet ups scheduled to celebrate Read Comics in Public Day 2011:
U.S.A events for RCPD
International events for RCPD
Folk in Perth, Australia, will be gathering for comics and a picnic from noon to 6:00pm.

Berlin, Germany, will be meeting up at a place called Minds Delight

5:30pm to 8:30pm.
Do you have a Read Comics in Public Day 2011 event or meetup not on this list?