Cincinnati Comic Expo's 2nd Year
Cincinnati Comic Expo returns for their second year this September 17 at the Duke Energy Convention Center. Admission is $10 with kids under 10 getting in for free. There are also VIP passes for $50. The show will have 23 Featured Guests alone and at least 112 individual artists or businesses that will be there.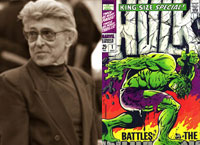 The Guest of Honor for the expo is Jim Steranko. Steranko is an illustrator, art director, film maker, lecturer, and publisher plus an escape artist, fire eater, and magician. He created more than 100 innovations for the comic form with his work as an artist-writer on S.H.I.E.L.D, Captain America, and the X-men. As a an illustrator, his work has appeared on book covers, record jackets, and movie posters as well. His work has hung in exhibits all over the world including the Louvre in Paris. His History of Comics released in 1970 included some of the first and only interviews with creators of the 30′s and 40′s. He has worked with Steven Spielberg, George Lucas, and Francis Ford Coppola; Jack Kirby's inspiration for Mister Miracle; and list by Wizard as one of the Top Five Most Influential Comicbook Artists of All Time. He will be spending his time at the Vanguard publishing booth, who publish much of his and other legend's work.
They have several featured guests lined up. David Aikins who does art for both Nickelodeon projects and Twilight Creations' Zombies!!! board game series. Darryl Banks co-creator of Green Lantern Kyle Rayner. Allen Bellman a Golden Age artist at Timely. Craig Boldman writer of the Archie comic strip and Jughead comics. Katie Cook artist on Fraggle Rock and in the Star Wars universe. Jose Delbo who has illustrated comics for the past 50 years in an eclectic career. Stan Goldberg color designer for all classic Marvel super heroes of the 60′s. Jackson "Butch" Guice current artist of Captain America. David Mack author and artist of the acclaimed Kabuki. Sean McKeever of Spider-Man Loves Mary Jane, Gravity, Young Allies, and other teen comics. Tony Moore of The Walking Dead. Chris Sprouse co-created Tom Strong with Alan Moore. Horror artist Billy Tackett. Executive Producer of the Batman movie series Michael Uslan. Thomas Zahler of Love and Capes fame. And more too.
There will also be a large number of attending comic creators, artists, and more. From indie creators: Eric Adams (Lackluster World), Dustin Carson (No Gods), Lee Christopher (Rock of Pages), Daniel Frazier (The Adventures of Nightclaw and Prowler), Max Ink (Blink), Jay P. Fosgitt (Dead Duck), Rodney Fyke ( Peanut, Puddin' n' Jelly), Stephen Hines (Valedictorian USA), Jack Knifley (Haunted). To webcomic creators: Cindy Ramey (Nightshift and Starfire Agency), Alex Heberling (Alex's Life), Robert Hickey (Clays Way). To professional artists and illustrators: Joe Slucher, Sean Foreny, Aaron Lambert, Kevin Meinert, Chris Pritchard. To comic professionals: Andy Bennett (Moonstone, IDW), Rick McCollum (TNMT), WJ Grapes. Plus so much more.
Studios and publishers attending include Pantheon Comics, Broken Icon Comics, Post Mortem Press, Ringtail Cafe, Studio Alumakaze, and Vanguard.
A number of groups will be at the con too. American Legacy Tours which does exciting history tours of the surrounding areas. The Comic Book Connection Initiative is a non-profit organization that donates comics to children in homeless shelters, after school programs and hospitals. Comic Related a daily comic news and industry website. The Ohio 501st and the Ohio Star Wars Collectors Club will be there as well.
There will be a large number of vendors attending this event. From comic and game stores to individual collectors, along with dealers in non sports cards, comic art, paper and comic supplies, legos, records, face painting, and original t-shirts.
Events include panels by Ricky Henry on his indie comic and films. Michael and David Uslan will discuss digital distribution. A Captain America Retrospective with artists from the past and present. Comic Book Trivia with up to 12 teams of four competing to win prizes and a costume contest for both kids and adults.
Gaming for the con will be handled by Yottaquest, local store. They will have a number of board and card games available for demoing and play: Ascension, Settlers of Catan, Carcassone, Dominion, Game of Thrones LCG, Zombie Dice, Resistance, Munchkin, Pandemic, and the football card game Jukem. They have a number of miniature games to play as well: Flames of War, Warmachine, Hordes, Heroclix, and Warhammer 40K, And there will be 4th edition D&D, Pathfinder, and Magic: The Gathering. They have arranged for game designers to show up and show off their games, like the board game Revolution. The game room will open till 11pm, after the rest of the con has shut down so you can game longer.
The Expo's auction theme for this year is "Helping Others with Captain America." The expo has invited selected creators to donate items for a silent auction, most of the pieces containing depictions of Captain America. You can check the website to see some of the art work for the auction. The money for the auction is going to: the Everyday Hero Award, a Cincinnati Comic Expo original award which recognizes people in the local community who go above and beyond in public service; Comic Creator Give Back, that will offer tables creators that have supported the expo; and Cub Scout Pack 186, who are in dire need of a new Pine Wood Derby track.
To keep up to date about what they are planning for the show, follow them at: http://www.cincinnaticomicexpo.com/