Intervention: A Great Marketing Opportunity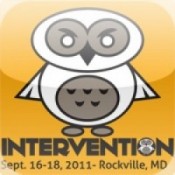 This past weekend, hundreds of people came to the Hilton in Rockville, Maryland, for the second annual Intervention con.
Intervention is "the internet culture convention," a place where creators of web-based content and their fans can gather to meet, buy and sell merch, and learn how to make their products more marketable to the public.
The con had a wide variety of vendors, from indie comic creators to filmmakers and novelists. I got to chat with Justin Timpane, director of "Ninjas vs. Zombies." He used Intervention as an opportunity to sell copies of his movie and also hosted a free screening on Saturday. I also got to meet indie comic writers Rafer Roberts ("Plastic Farm") and Clare Moseley ("The Otherkind"), who were there promoting and selling their books. It was a great experience getting to talk to people who are so passionate about their art!
Intervention is also a cool place to pick up some awesome merch. In addition to the huge spread of comics and books for sale, vendors were selling geek culture t-shirts, jewelry, buttons, and toys. My favorites were the Stuffed Sushi plush toys; I picked up an adorable stuffed salmon roll. Also among the vendors were representatives from Sticky Comics, selling shirts and bookmarks and promoting their site.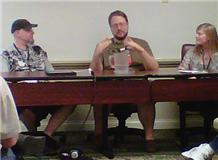 The best part of Intervention was definitely the panels. There were dozens of free panels, ranging from topics like blogging and podcasting to creating the perfect steampunk costume. I sat in on the WordPress panel, co-hosted by James Harknell (one of the founders of Intervention) and webcomic creators Steve Napierski and Christiann MacAuley. They discussed various upgrades available that can be used to make a more professional looking website.
For those who weren't interested in the panels, Intervention offered other activities. LARP events, musical performances, film screenings, and dance parties went on all throughout the weekend.
And like at any con, there were plenty of people wearing interesting costumes. I saw a lot of steampunk cosplayers (including one guy in drag), as well as a few characters from comics and video games.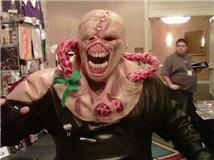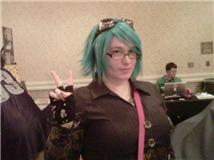 And a few costumes that made me wonder!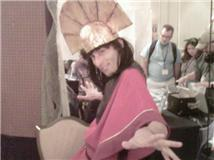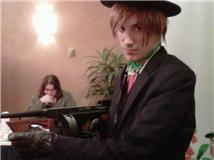 Intervention is a fun con because it appeals to a wide range of interests: LARP, video games, comics, and sci-fi/fantasy. But overall it is great place to discuss and market web-based content. It provides a valuable way to make professional connections and to learn more about creating successful websites. If you are a blogger, podcaster, artist, or web designer, or if you sell geek-related goods online, you should definitely check out next year's event. Or purchase a vendor table and use Intervention as a way to gain more fans for your own site!