Zombie Flash Mob in San Diego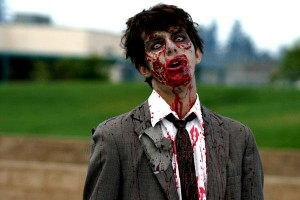 The living dead are descending upon San Diego, but they're doing it for charity. Who says zombies don't have feelings?
This October, CStar Productionz is teaming up with the Down Syndrome Association of San Diego by hosting a "Thriller" zombie flash mob to coincide with DSA's annual Buddy Walk. The performance will take place on Saturday, October 15 in Balboa Park at 10:00am.
Here's how you can get involved. CStar Productionz is looking for 300 volunteers to participate in the zombie flash mob. For the next few weeks, they will give free classes in the San Diego area for people to learn the "Thriller" dance. A class schedule is available on their site, along with a video of the dance steps so people can practice at home.
Performers should arrive at the event in orange and black zombie gear and have to provide their own costumes.
The DSA Buddy Walk raises money for Down syndrome research and programs. So zombify yourself and have fun while helping a worthy cause!