Jay & Silent Bob Get Old Podcast Live at NYCC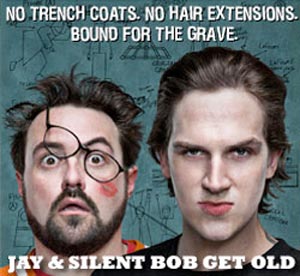 New York Comic Con 2011 is coming up (October 13-16), which means more finalized details are being released. One of those is the announcement that the Jay & Silent Bob Get Old podcast will be airing a live episode from NYCC.
For those unfamiliar with the podcast, Kevin Smith and Jason Mewes (who play Silent Bob and Jay), started doing a podcast a while ago on SModcast. The tagline for Jay & Silent Bob Get Old is "No Trench Coats. No Hair Extensions. Bound For The Grave." The podcast isn't really about the two characters the men play. it instead features Smith and Mewes talking about stuff from their twenty-plus years friendship. It is, unsurprisingly, intended for mature audiences.
In addition to the NYCC performance, there is a The Jay and Silent SMod Tour playing at various locals. It features live shows of Kevin Smith's various podcasts from his SModcast network.
The New York Comic Con live podcast of Jay & Silent Bob Get Old is scheduled for Friday, October 14, at 7:pm. This is special ticketed event at NYCC; $35 for second tier seating and $10 for general admission. If you've got a VIP Ticket to NYCC it includes admission to this event.