WonderCon Moves to Aneheim for 2012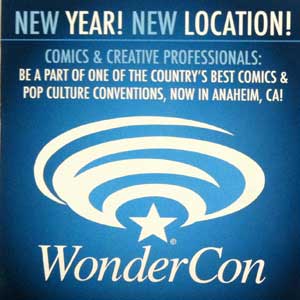 WonderCon, a growing comics and pop culture con that's a sister event to SDCC, is moving for 2012.
The convention has been held in San Francisco for about 20 years (the comics fest itself is 25, but I seem to recall it being held somewhere else originally). Next year's WonderCon, though, will be in Anaheim. Handy to Disneyland if you want to make a really crazy week of it.
So why is WonderCon suddenly trotting down to Southern California to rub elbows with The Mouse? Is it going to permanently be hours north of Comic-Con's home?
Moscone Center South, the home to WonderCon for the past six years in San Francisco, is undergoing renovation work in the first six months of 2012, and dates were not available in our regular venue. Rather than miss a year, Comic-Con International, which has put on WonderCon since 2002, decided to look for an alternative venue for the popular show. The Anaheim Convention Center is the largest convention center on the West Coast, and one of the largest in the world. It's location – right next to the Disneyland and Disney California Adventure Theme Parks – offers attendees warm weather, numerous hotel rooms, and great dining opportunities. Anaheim is easy to get to from all over the country, whether by air (LAX, Long Beach, and John Wayne airports), train, or car (via Interstate 5).
Huh, so it's just a temporary move to Anaheim because WonderCon's typical home in the Moscone Center South is remodeling. Guess that means the event will likely be back in NorCal for 2013. I plan to take advantage of the con being in SoCal next year. Anyone else?