Hal-Con 2011 with Nicholas Brendon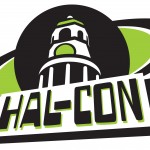 It's easy to find great cons all across the United States, but our Canadian "cousins" like to nerd out too! This weekend, Hal-Con is back, and bigger than ever.
Hal-Con celebrates all facets of geekdom: sci-fi, fantasy, gaming, steampunk, everything. This year's event will be held on November 12 and 13 at the World Trade & Convention Centre in Halifax, Nova Scotia. The schedule is loaded with contests, auctions, gaming, and more. And there will be panels on everything from Doctor Who to zombies, anime, and Klingons.
This year's big guest is Buffy the Vampire Slayer star Nicholas Brendon. Joining him is a wide range of actors, novelists, and comic book artists. Fantasy model Drakaina will also appear at the con.
Online ticket sales have closed, but you can still buy your tickets at the door. So if you live in Halifax(or if you live in upstate Maine and you have a car and a passport), be sure to visit this awesome event.