Chicago TARDIS is 5th Doctor Fest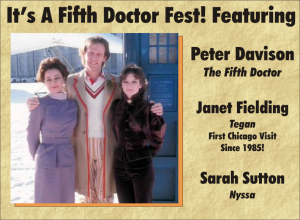 Get a big 'ol serving of Doctor Who this Thanksgiving weekend at the Chicago TARDIS convention.
I TOTALLY wish San Diego was near Chicago because the 2011 Who event is going to be a Fifth Doctor fest. Not only do they have Peter Davison as a Guest, but they've got the near complete Companion set with actresses Janet Fielding (Tegan) and Sarrah Sutton (Nyssa).
AND they'll have four guests from Big Finish, the British audio theater company responsible for new, original cast Doctor Who audioplays!
*takes a moment to get over rush of fannish enthusiasm*
In addition to Peter Davison, Janet Fielding, Sarah Sutton, and the Big Finish crew, Chicago TARDIS has several Who-erific guests for general fan delight. Such as Mark Sheppard ("Canton Everett Delaware III"), Andrew Hayden Smith ("Jake Simmonds"), Tara O'Shea (author of Chicks Dig Time Lords), and many others who I'm just WAY too excited to bother copy and pasting over.
My fannish desires are, once again, foiled by cruel geography.
For those of you not hampered by the conspiracies of space time and budget… Chicago TARDIS 2011 is scheduled for November 25-27 and will be held at the Westing Lombard Yorktown Center in Lombard, Illinois. Which I can only assume is close to Chicago. Tickets are $40-$100 dollars and the fancy special access packages are sold out.