New York Comic Con 2012 Ticket Sales Open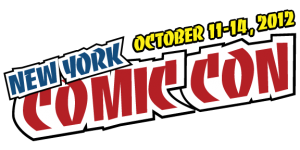 Talk about getting an early jump on convention badge sales! The New York Comic Con (NYCC), America's top mega comic convention after SDCC, has already opened registration for their 2012 event.
What's interesting is that NYCC is held at the end of Fall, well after Comic-Con, but here it is January and they're starting sales off already. And they're opening the ticket sales in stages instead of just all at once. Right now 4-day badges are on offer. Then, in spring, they'll open sales on the 3-day membership level. And then 1-day badge sales will open up in early summer.
I wonder what the effect would be of the San Diego Comic Con adopting a similar system. But, then, could anything short of super powers make that convention's ticket sales sane?
Getting back to NYCC 2012, their online ticket sales will close October 8. Badges will be sold on site but the prices at the event will be $10-$20 more. Right now, a pre-registration 4-day pass has an $85 price tag. NYCC also has a fancy-dance VIP membership level.
The 2012 New York Comic Con is scheduled for October 11-14 and will be held at the Javits Center, which is a super modern cubes-of-glass type building that looks pretty awesome in and of itself.