Star Trek Costume Resources: Uniforms From The Original Series to the 2009 Movie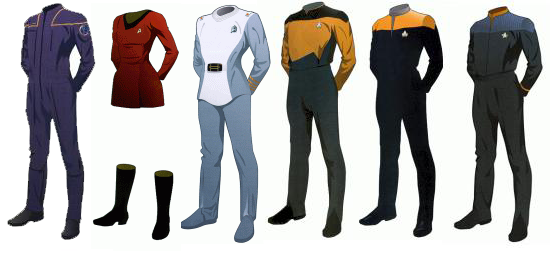 The uniforms in Star Trek are some of the most recognizable costumes at conventions, especially since the latest Star Trek film was such a massive summer blockbuster back in 2009. Fans are clamoring for Star Trek costume resources for their upcoming conventions, and The Convention Fans Blog and Alltern8 are here to help!
Of course, with over 11 movies, 6 television series, alternate universes, comic books, and an upcoming Star Trek MMO game, there is no shortage of Star Trek uniforms to choose from. To make it easier, I've divided these uniforms into difficulty level. The first level (newbies) will involve store bought uniforms only. The medium level will involve using official patterns to create your own. And the third level, the "OMG what have I gotten myself into" level, involves creating your own pattern and having very little in the way of reference material.