Why Dragon*con Has Lost Its Appeal
8 March 2010
2 Comments
by Admin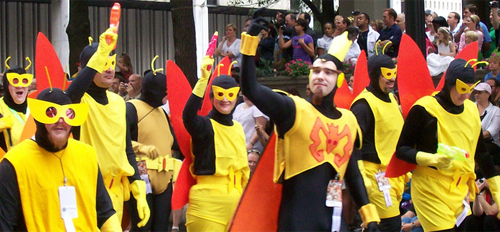 I attended my first Dragon*con in 2005. My friends and I had been attending Florida conventions for years, but had never attempted anything quite like Dragon*con. That first year we didn't even get to stay in one of the hosting hotels, because they had filled up months in advance. We really had no earthly idea what we were getting ourselves into.
After that crazy Labor Day weekend in 2005, however, we were all hooked. Dragon*con was undeniably the best convention we'd ever been to, and we were determined to go back, stay in a host hotel, and do it all over again in 2006.
And so we did. From 2005 to 2009, I spent my Labor Day weekends at Dragon*con. In that time I grew to love Dragon*con, but that love was starting to fade towards the end of 2008, and had turned into intense frustration by the end of 2009. In fact, 2010 is going to be my last Dragon*con for a good long while.
-> Read More: Why Dragon*con Has Lost Its Appeal <-