Convention Report: Monster-Mania Convention 2010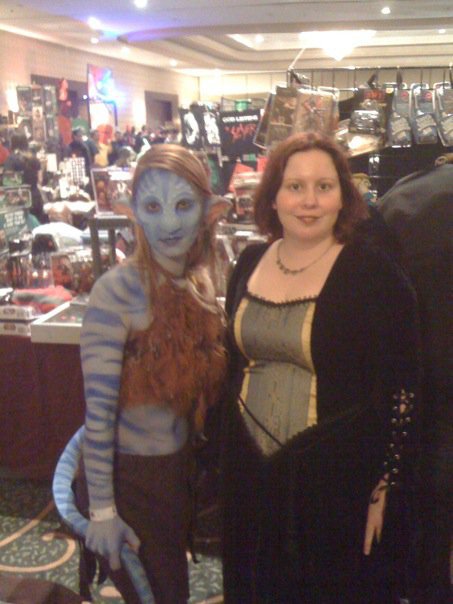 This past weekend, I had the pleasure of attending the annual Monster-Mania Convention (an event focusing on horror) at the Crowne Plaza Hotel in Cherry Hill, New Jersey. I attended the event as a vendor, but had ample time to explore the convention as a fan while my colleagues worked at our vendor table.
Vendor Experience
The convention ran very smoothly in terms of its vendor management—most likely attributed to the fact that this convention has been running annually for well over a decade. The convention site provided clear information about vendor scheduling and the event ticket pick-up process. I spoke with other vendors at the con—unlike their experiences at other recent conventions in the Philadelphia area, they seemed pleased with turnout and sales.
I did hear complaints from some vendors who were located in the autograph rooms. They didn't get very much traffic on Sunday. Some of the tables in the main vendor room were also a bit tight. We had to turn our table sideways to account for other vendors' wire stand-ups and space to walk between tables.
Attendees
The attendees at this convention seemed to remain entertained and in high spirits throughout the weekend. This con generally drew an outgoing (but not obnoxious) crowd. As a vendor and an attendee, I really enjoyed the approachability of so many people. The Sunday crowd in particular included a large amount of families. It was a bit disconcerting to hear kids under ten asking their parents about merchandise including the F word (it is a horror convention—gore and guts should be expected).
Staff
The convention staff seemed well-trained and friendly at all times. They were generally unobtrusive and the set-up did not require them to direct traffic or approach attendees. The convention layout and hotel signage were very clear. This clearly made the job of the convention and hotel staff much easier. I was told that the staff were adamant about fans and vendors leaving exactly on scheduled time on each day. Some felt this to be a bit much, though admitted it was efficient.
Parking
Parking at this convention was more traumatic than a nightmare on Elm Street. Unfortunately, the hotel parking lot did not have the capacity to accommodate regular hotel guests, convention guests and local attendees. The $20 one-day Saturday tickets seemed extremely popular among Philadelphia and New Jersey residents. While it is great to see such a high turnout of local fans (especially from the perspective of a location-based vendor), the parking was a problem. Attendees were even parked on highway on-ramps, employee-only spots (unless all employees had horror-related bumper stickers) and in emergency-only locations at the neighboring Lockheed Martin facility. This could have led to an unsafe situation. In fairness to the hotel and convention, the violent winds and floods over the weekend compacted the parking problem.
Guests
I did not have personal interaction with guests, but the lines for the guests seemed relatively short on Sunday in particular. Friday night and Saturday day had long lines for some of the guests, though lines were comparatively short to those of other conventions and managed efficiently. There were no winding lines cutting off foot traffic; most of the attendees spent a large amount of time in the hotel lobby and vendor areas. Gary Busey was rumored to be even more eccentric than expected and two friends greatly enjoyed an interaction with Malcolm McDowell, who took the time to sign a rather unusual object and begged to hear their recent story about a wild night in Atlantic City. It's always wonderful to hear positive feedback about popular stars.
This convention appeared to be extremely well-managed. The hotel staff were clearly annoyed by the presence of the convention, though everyone involved in or at the convention seemed extremely polite. In future years, the convention may have to relocate to a larger or multi-hotel venue. From the perspective of a vendor, I couldn't be more pleased. Staff enforced rules without being too hands-on and the fans were extremely engaging.
The enthusiasm of fans in the horror community and their demonstrated acceptance of slightly-beyond-genre vendors and special needs fans is altogether inspiring. I look forward to attending or vending at Monster-Mania Convention in the future.
Tara M. Clapper is a full-time freelance writer and geek living in the Philadelphia area. Tara is involved in the upcoming re-launch of Fright Times and helped represent Seventh Kingdom IGE at this convention. Seventh Kingdom IGE is an interactive game environment—a highly-immersive game entertaining LARPers in New Jersey. Seventh Kingdom will present an interactive experience at the upcoming National Halloween and Haunters Convention at the end of April. Above photo by Matthew C. Hoerter, Seventh Kingdom IGE.