An Interview with Eric L. Watts, Founder of TrekTrax Atlanta (Part 3)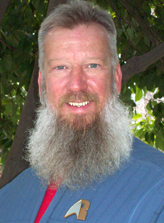 Below is part 3 of my interview with former Dragon*con Star Trek programming director and founder of TrekTrax Atlanta, Eric L. Watts (click to read part 1 and 2). In the interview he discusses what happened with Dragon*con, the news getting leaked, his fondest memories, the trials and tribulations of striking out on his own, and whether he plans to attend Dragon*con this year despite all that's happened. This interview is pretty long, so I've divided it up into parts for easy reading. Enjoy!
Kelly Rowles: What is the most important advice you have for someone who is looking to create their own convention?
Eric L. Watts: In the broadest sense, always remember: customer service. In the context of a sci-fi or Star Trek fan convention, that means giving the attending members something interesting and entertaining to do all the time… give them something they can't wait to see and hear. Give them all their favorite things to do, but also give them something new and different, something unexpected. Give them a chance to meet the celebrities, give them a chance to show off their costumes, give them a chance to talk about the most incredibly trivial aspect of the franchise with other fans who "get it," and give them a chance to hang out with old friends and to make new ones. Just as importantly, make sure your convention is well-organized and well-run… make sure registration runs smoothly, make sure all programming runs on schedule, make sure you deliver everything you promise, and make sure everything is classy and professional. And if something goes wrong… fix it! The only thing you want to hear from folks as they leave your convention on the last day is, "I can't wait to come back next year!" It's all about excellent customer service.
KR: Will you been attending Dragon*Con this year, as a fan?
ELW: Absolutely! I'm looking forward to it. You know, I had never attended Dragon*Con before I took the position of programming director, and once I did, I almost never left my programming room. In fact, I can tell you that in 17 years, I went to the dealers room only three times (in three different years) and the VIP banquet once, and never attended any other track's programming. So aside from those four instances, I was always doing my job, running my track. You could actually say that even to this day, I've never really attended Dragon*Con. I'm looking forward to going as a regular attending member, with no blue ribbon hanging from my badge, sitting in the audience, seeing what all the fuss is about and enjoying the fruits of someone else's labor for the very first time. I know I'm going to have a grand time!
KR: Did a lot of your staff/helpers from Dragon*Con come over to TrekTrax Atlanta?
ELW: Everyone on my staff at last year's Dragon*Con was upset at their decision to not bring me back and to the best of my knowledge, none of them have volunteered to return. So far, about half of them have volunteered for TXA. I'm extremely grateful to have their loyalty and support… they understand and share my vision of what quality convention programming should be and have committed themselves to helping make TXA the best possible Star Trek convention it can be.
KR: Why did you create TrekTrax Atlanta?  After 17 years working so hard behind the scenes at a con, why wasn't hanging up the old uniform and "retiring" an option for you?
ELW: Believe it or not, I almost did. Running TrekTrak was a huge responsibility and a huge drain on my time, and my first—well, okay, maybe my second—reaction to my dismissal was that I would be able to get a huge chunk of my life back. I have a whole plateful of other activities, interests and hobbies that were often neglected or put on the back burner by the lack of time I had for them, and for a while I was looking forward to having more time to devote to those things than I'd ever had before. If 2009 was to be my last year for Dragon*Con, it sure as hell was a pretty good year to go out on. I got to meet Leonard Nimoy, William Shatner, Patrick Stewart and Kate Mulgrew, all onstage… a once-in-a-lifetime opportunity that pretty much any hardcore Trekkie like me would die for. Certainly, I could have closed that chapter of my life and moved on with no regrets.
But in the weeks following my dismissal, a series of events made me wonder if that's really what I wanted to do. Two weeks after I was let go by Dragon*Con, I started having excruciating pain in my right leg, so severe that I had to be taken to the emergency room. It turns out that I have no less than three blood clots in my right leg and I was diagnosed with acute deep vein thrombosis. This is a life-threatening condition that could easily cause a fatal embolism. Even though my doctor put me on some strong anti-coagulants and pain meds, I was unable to walk or even stand for two weeks… two long weeks that I was stranded at home, missing work. It was during those two weeks, coincidentally enough, that the news about my dismissal hit the fan press, along with all the wild speculation about what the reasons were, and with both my supporters and my detractors having plenty to say about my work for Dragon*Con on the blogs.
You know, there's the old saying that you can't please all of the people all of the time. I would add to that as a corollary, "No matter what you do, some people will love it and other people will hate it." It really amazed me to read how vicious some people were with their criticisms of my work, but I was also extremely gratified at how many people supported me and came to my defense. I usually let all these kinds of comments, both good and bad, roll off my back, but at a point in my life where I was in excruciating physical pain and wondering if I would even survive, much less ever walk again, they all kind of got to me.
By mid-January, I was back on my feet—sort of—first using a walker and then a cane to hobble around. According to my doctor, with the eventual passing of the debilitating pain, the chances of me losing my leg—or my life—were greatly reduced. I managed to return to work and as my life returned to some semblance of normalcy, I developed an odd and surprising new appreciation for being able-bodied—something I had previously taken for granted. By late January, I was once again walking upright and unassisted and I really did feel like I'd finally gotten my life back… all of which led me to the watershed moment of, "What now?"
After everything that had happened to me during the previous six weeks, I came to the realization that I still had much to offer to Star Trek fandom, and I couldn't help but to remember those words of advice that a certain Captain Kirk once gave to a certain Captain Picard: "Don't let them promote you. Don't let them transfer you. Don't let them do anything that takes you off the bridge of that ship because while you're there… you can make a difference."
I believe I made a difference with my work for Dragon*Con, and I believed I could still make a difference in fandom. I didn't quite know how just yet, but I definitely knew that it was still far too early for me to "hang up the uniform and retire." As I mentioned earlier, I considered offers from a couple of other conventions to join them as a programming director, but ultimately decided that the best thing for me to do was to start my own convention. It had already been suggested on some of the blogs, it had already been suggested in some email I'd received, and it had already been suggested by some close personal friends. With support and encouragement like that, I think it would have been harder for me to explain why I didn't start a new convention. It seems to have been expected of me. And because I know those expectations are high, all I can do is to promise everyone that I will do everything in my power to make TrekTrax Atlanta the very best Star Trek convention it can possibly be.
Thanks again to Eric Watts for giving us some of his time to talk about the new convention and his previous work with Dragon*con. You can learn more about TrekTrax Atlanta by friending them on Twitter or Facebook, or just going to trektrax.org!