Shore Leave 32, a Maryland Sci-Fi Convention, Starts Today!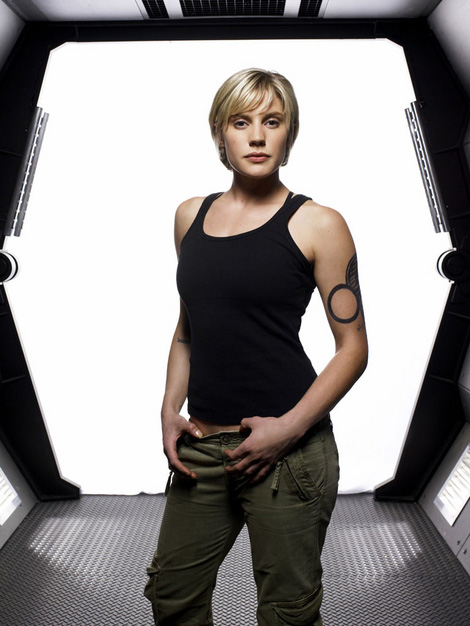 Shore Leave 32, a fan-run science fiction convention near Baltimore, Maryland, is happening this weekend. The convention runs July 9-11, 2010 at the Marriott's Hunt Valley Inn. We attended Shore Leave 31 last year and had a great time. Although Dan and I can't attend Shore Leave 32 this year, we have a great guest blogger lined up to attend in our stead. You can expect her report early next week, along with some photos from the con.
The guest list for Shore Leave 32 includes Edward James Olmos (Battlestar Galactica's Adm. William Adama), Katee Sackhoff (Battlestar Galactica's Capt. Kara "Starbuck"), Torri Higginson (Stargate SG-1 and Atlantis' Dr. Elizabeth Weir), Kevin Sorbo (Hercules: The Legendary Journeys' Hercules; Andromeda's Capt. Dylan Hunt), Dominic Keating (Enterprise's Malcolm Reed), and Catherine Hicks (ST:IV Voyage Home's Dr. Gillian Taylor). Bill Dow has had to cancel his appearance. There is also an impressive list of authors, scientists, and more.
The convention has worked out a special arrangement for Edward James Olmos autographs. Olmos usually charges $60 for his autograph, but at Shore Leave 32 you can get it for half price. The con is picking up the other half (isn't that nice?).
At-the-door tickets cost:
Weekend: $85
Friday Only: $30
Saturday Only: $60 (includes Masquerade and Ten-Forward)
Saturday Evening Only: $15 – For admission to Masquerade (viewing attendance) and Ten Forward only. To participate in the Masquerade you must have at least a full Saturday membership.
Sunday Only: $40
Children (5-12): $20
Children (under 5): Free with paying adult
For more information, visit www.shore-leave.com.