Our Picks for Must See Thursday Programming at San Diego Comic-Con 2010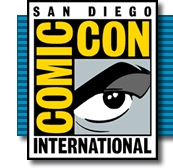 Every year we cry a little bit about not making it out to California for San Diego Comic-Con International (or SDCC for short). We're a bunch of East Coast con-goers here at The Convention Fans Blog, and SDCC is happening July 22 – 25 at the San Diego Convention Center. Even though we won't be attending SDCC 2010, we have looked over the schedule and created a list of "must see" events and panels that we would attend if we were there. Since that programming list so incredibly long, we're breaking down these recommendations into specific days. So without further ado, here is The Convention Fans Blog List of Must See Thursday Programming at San Diego Comic-Con 2010.
10:00-11:00 DreamWorks Animation: Megamind— For the first time DreamWorks Animation is coming to SDCC, and it will mark its debut by featuring Megamind. Will Ferrell, Tina Fey, Jonah Hill and director Tom McGrath will be on the panel to show some footage and discuss the film. But let's be honest, no matter what they were promoting, we'd totally love to see Will and Tina! Location: Hall H
10:30-11:30 Danny Elfman— If, for some strange reason, Will and Tina didn't interest you, we recommend this incredible opportunity instead. Composer Danny Elfman will be on hand to discusses his 25-year collaboration with director Tim Burton. He'll be joined by Warner Brothers Records executives to announce their plans to celebrate this quarter-century milestone. Location: Room 6BCF
11:15-12:45 Walt Disney Pictures: TRON: Legacy— This isn't the first appearance at SDCC for Tron. In fact, it's the third. But hey, until the movie comes out we'e be in line with everyone else to try and get even just a few more glimpses of the movie. Director Joe Kosinski, producers Sean Bailey and Steven Lisberger, and cast members Jeff Bridges, Garrett Hedlund, Olivia Wilde, Michael Sheen, and Bruce Boxleitner will all be on the panel, and it's being moderated by Patton Oswalt. Location: Hall H
1:00-2:00 USA Network's Burn Notice— Convention Fans staffers Dan and Kelly are both huge fans of Burn Notice and Bruce Campbell. If Kelly and Dan were at SDCC, this is a panel they'd be lining up for. Bruce Campbell (Sam Axe), Matt Nix (creator and executive producer), and Alfredo Barrios, Jr. (executive producer) will answer questions about the creative process behind the show. Location: Ballroom 20
2:15-3:15 World of Warcraft: Epic Loot— Did we mention Dan and Kelly are also big World of Warcraft geeks? This is yet another panel right up their alley. Chris Metzen, Blizzard Entertainment SVP of creative development; Micky Neilson, Blizzard Entertainment publishing lead; Hank Kanalz, VP/GM of WildStorm and World of Warcraft comic editor; Julian Rignall, Future Plus editorial director of World of Warcraft Official Magazine; Jim Fletcher, DC Direct design director; and Cory Jones, Cryptozoic Entertainment president and chief creative officer will all be there to discuss and unveil some World of Warcraft-inspired products. Location: Room 6BCF
3:30-4:30 Entertainment Weekly: The Visionaries— This is like, the UBER-est panel at the whole convention, am I right? I don't think this one panel can contain the amount of awesome these two men produce! "Geek gods" J. J. Abrams (Star Trek) and Joss Whedon (Buffy the Vampire Slayer) are both on the same panel to talk about the future of pop culture. We seriously wish we could be at this one, and we hope to find the whole thing on YouTube not too long after it happens. Location: Hall H
4:45-5:45 Our Heroes Have More Fun: the Anti-Heroes of Showtime— Kelly loves a good anti-hero. She also loves a lot of the shows on Showtime. This is a panel she'd be running to get to after she was done swooning over J.J. and Joss. On this panel is Dexter's Michael C. Hall and showrunner Chip Johannessen; David Duchovny and Tom Kapinos of Californication; and Mary-Louise Parker and Jenji Kohan of Weeds. Location: Ballroom 20
6:00-7:00 Writing Queer: Creating and Writing LGBT Characters— Moderator Justin Hall (Glamazonia, Prism Comics' talent chair) will lead a conversation with some of the best writers working in comics today: Paige Braddock (Jane's World), Howard Cruse (Stuck Rubber Baby), Gilbert Hernandez (Love and Rockets), Greg Rucka (Detective Comics), Gail Simone (Wonder Woman), and Judd Winick (Pedro and Me). They will talk about "creat[ing] narratives that reflect the diversity and humanity of LGBT individuals, as well as the obstacles they face". Location: Room 32AB
7:30-8:30 Dr. Horrible's Sing-Along Blog— As if it wasn't already clear, many staffers for The Convention Fans Blog love Joss Whedon. So we'd be all over this screening of Dr. Horrible's Sing-Along Blog. It is being hosted the California Browncoats, complete with lyrics books and call backs. Location: Room 6A
Stayed tuned for our Friday San Diego Comic-Con programming recommendations! You can see the entire list of Thursday programming at SDCC's website.