Our Picks for Must See Sunday Programming at San Diego Comic-Con 2010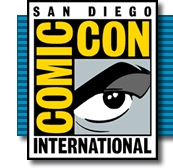 Every year we cry a little bit about not making it out to California for San Diego Comic-Con International (or SDCC for short). We're a bunch of East Coast con-goers here at The Convention Fans Blog, and SDCC is happening July 22 – 25 at the San Diego Convention Center. Even though we won't be attending SDCC 2010, we have looked over the schedule and created a list of "must see" events and panels that we would attend if we were there. Since that programming list so incredibly long, we're breaking down these recommendations into specific days. So without further ado, here is The Convention Fans Blog List of Must See Sunday Programming at San Diego Comic-Con 2010. (Read our Thursday recommendations, our Friday recommendations and our Saturday recommendations).
10:00-11:00 Super Hero Squad Online: How We Built the First All-Ages Marvel MMO— Kelly is a big MMO player, so this panel is right up her alley. Some of the big wigs from Gazillion's The Amazing Society will offer a sneak peek at at game and will reveal brand new areas at the con. Panelists include Jason Robar (VP and studio manager, TAS), Jay Minn (creative director, TAS), Nik Davidson (senior game designer, TAS), Franz Felsl (senior game designer, TAS) and Matt Bell (art director, TAS). Location: Room 7AB
10:30-11:30 ABC's Castle: Nathan Fillion & Stana Katic— Convention Fans writer Tara would be first in line to attend this panel (she's a bit of a Nathan Fillion fan). On the panel will be Nathan himself, along with Stana Katic (Quantum of Solace), creator Andrew Marlowe (Air Force One), and executive producers Rob Bowman (X-Files) and Laurie Zaks. Location: Room 6BCF
11:00-12:00 How to Draw Star Wars for Kids— Kelly loves it when a convention offers fun kids' programming! This panel is hosted by Lucasfilm's Bonnie Burton (You Can Draw: Star Wars) and artist Katie Cook (The Clone Wars web comic). They will help kids draw Star Wars characters! Location: Room 30CDE
11:30-12:30 LEGO Universe Building Creativity Show & Tell— This is an MMO Kelly is super excited about! Ryan Seabury (creative director), Mark Hansen (senior director), Chris Brubaker (media coordinator), Ryan Baier (videographer), and two representatives from the LEGO Universe Partners program will give an in-depth look inside the LEGO Universe creative process. Location: Room 5AB
12:00-2:00 Browncoats Fan Group— Did someone say Browncoats? Tara and Kelly would SO be at this one. The California Browncoats host this event, complete with a game of "Serenity Spin". Location: Room 32AB
12:30-1:15 American Dad— Dan is our staffer who would be lined up for this panel, although admittedly he's more of a Family Guy fan. However, since Seth MacFarlane himself is on the panel, he'd totally go anyway. This panel will feature a never-before-seen episode of American Dad in various stages of animation followed by a Q&A session. Location: Ballroom 20
1:30-2:30 Glee— We don't how the organizers are getting away with bringing cast members from Glee to a comic convention, but Kelly doesn't care. She loves Glee, and she would be at this panel no matter what. Ryan Murphy and Brad Falchuk, along with stars Chris Colfer, Amber Riley, Jenna Ushkowitz, Kevin McHale, Mark Salling, Heather Morris, and Naya Rivera, will all be there. Location: Ballroom 20
3:00-4:30 Starship Smackdown XVIII: Ultimate Platinum Collector's Edition— This is called a "must-see" panel by Comic-Con itself, so surely it should not be missed! Billed as a panel of "spaceshipologists," it is said they will attempt to "outwit, outplay, and outphaser" each other. On this panel is Robert Meyer Burnett (Free Enterprise I & II, The Hills Run Red), Chris Gossett (The Red Star), Ashley E. Miller (Fringe, Thor), Steve Melching (The Clone Wars, Transformers), Robert Hewitt Wolfe (Andromeda, Deep Space Nine), Kay Reindl (Millennium, Legend of the Seeker), and Mark A. Altman (DOA: Dead or Alive, The Unknowns). Location: Room 7AB
4:00-5:00 Buffy the Musical— It's like Rocky Horror Picture Show, but done with the Buffy the Vampire Slayer musical episode "Once More With Feeling". This has become a trend at fandom cons everywhere, and is a definite must see.  Location: Ballroom 20
You can see the entire list of Sunday programming at SDCC's website.