The Best Twitter Updates from San Diego Comic-Con 2010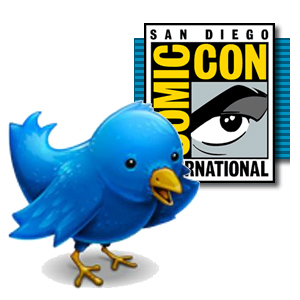 Sitting at home or work wishing you were at San Diego Comic-Con 2010? Yeah, we are too. That's why we're watching the Twitter updates for the official hashtag #SDCC and living vicariously through the attendees.
It's definitely not like being there, but at least we get to see some funny pictures, read all the big announcements, and feel bad for those sitting in line for the next 10 hours just to get a glimpse at the latest from the new Tron movie. With tweets coming in fast and furious, it's a bit hard to keep up, so we've decided to cull through them and pluck out some great highlights for you.
P.S. You can follow The Convention Fans Blog on Twitter at @conventionfans. We've retweeted all the big headlines as well as the funny stuff!
The Best Twitter Updates from San Diego Comic-Con 2010
djlarew Of course there are strollers everywhere at Comic Con! How else would an 8-month-old infant find those rare Dr. Who action figures? #sdcc
facepunchlife I was blinded at ComicCon and all I got was this stupid eyepatch #SDCC #NerdOnNerdCrime
toddbarnard If anyone was to be stabbed in teh eye, you'd think it'd be the writers of all the awful Resident Evil sequels #sdcc #imfeelinstabby
MrDonaldGlover Someone getting stabbed in the eye at SDCC. Not funny. The guy dressed as wolverine screaming like a girl next to him…a little funny.
PipsBadIdeas If the World Cup broke twitter then Comic-Con broke tumblr. Curse you sexy cosplay women, curse you! #sdcc
onetimeko Just had a dream I convinced @nathanfillion to spit on something in lieu of a paid autograph because I didn't have a ticket. Too much SDCC.
therealcliffyb Just saw someone run up to a Princess Peach cosplayer saying "OMG Fat Princess is my favorite game!" #facepalm #cosplayfail #sdcc
FaustestSobeck These enormous free bags offer ample room to store self respect and virginity. #sdcc http://twitpic.com/2802cr
dannypudi After 2 weeks of role-playing in the woods, it's time to get back to the real world. Comic-Con here I come! #SDCC
KatherineRamos Got my grandma saving a seat for me in Ballroom 20. Now waiting for True Blood signing. #SDCC
tomsilvestro Oh, man! My friend flaked left. Anyone want to be a "middle" in my Human Centipede costume? #PretendingToBeAtComicCon #sdcc
AkiraGPig Just realized haven't had enough food or sleep in over 30 hrs. & that 4,000+ #SDCC-goers prolly saw my bright green ass yesterday!;)
pattonoswalt Having a window seat at a restaurant during #SDCC is like dinner with a puppet show directed by Diane Arbus.
NathanFillion Slave Leia debauchery at G4 party #sdcc http://tweetphoto.com/34327714 /via @cyborgturkey — Geekgasm. Just now.
clembastow Bonded with some ladies at the Chessex stand. We all agreed it felt like cheating on our old dice. #sdcc http://yfrog.com/756p3hj
Tlieso I need to stop reading all these #SDCC rumors. Going to sleep with visions of @NathanFillion as Ant Man dancing in my head. #DRATW !!!
CTWatters Overheard en route to the convention hall: "The economy doesn't really matter, because we all live with our parents." #SDCC
MichaelAusiello In advance of our chat in AM, SPARTACUS' Lucy Lawless is texting me pics of herself modeling merkins. This interview could get hairy. #SDCC
gizmogladstone cute trekkie girls talking to gaming nerds? I'm calling it — #SDCC is a dorky Brigadoon.
hawaii United announcer at the airport: "For baggage claim three, note oversized items, surfboards, car seats, lightsabers…" Yep, it's #SDCC.
RonniniPanini Dear hot Wolverine, thank you for the myspace-style picture. You're hot. Love, Ronnie. #SDCC
wilw OH: "What's a Cylon?" (someone is in the wrong place) #sdcc
WetOREO I ONLY want to read Comic Con related tweets, so everyone NOT at #SDCC please stop tweeting!
ophanim People dressed like Ghostbusters DO smell like they've been hosing down the dead. #sdcc
jesusreyes The problem with all the #SDCC webcams is you can't experience the Exclusive Comic-con scent of BO and funions.
mariancall #sdcc or other geek gathering rule #1: change your ringtone to something besides the iPhone default.
unicornslayer Awh damn! I forgot my chainsaw. #SDCC
Superfluously Why won't anyone tell me where the Jersey Shore panel is? #SDCC
Justin_Stangel San Diego Comic-Con: How many Stormtroopers helemts do you think are in the lost and found right now? #SDCC
DeathStarPR If you're attending #SDCC & happen to see @darthvader go up to him and yell "Go, go Gadget legs!" He loves that joke. & force choking nerds.
paulscheer 2 things I've learned @ Comic Con so far, don't shower in your Wookie costume & throwing Tron Frisbees @ People's Heads is illegal #sdcc
awildhare Perfect accessory for Con: Fremen suits. Get on that, NASA. It's what I'd want my tax dollars spent on. #sdcc
extralife Seeing all these #sdcc pics today is making me involuntarily grip my wallet with one hand, and check my keys with the other
a1topnotch Hall H #sdcc is like riding coach class for 8 hours but with movie stars and previews..
mattfraction I smell cigarettes and pepper spray… @warrenellis must be here #SDCC
okiejon Offhand joke about Aquaman leads to impassioned rant from Aquaman fan behind me in DC line. Learn from my fail. #sdcc
clearasmud Will Ferrell is dressed as Megamind! Lol "I thought we were all going to dress up. I kinda feel like a turd up here." #sdcc
grantimahara Putting together my #SDCC schedule reminds me of arranging my classes in college. In fact, I'm using the exact same grid system.
pattonoswalt Just spotted a Superman who's not donut-proof. #SDCC
NathanFillion I don't get to Comicon till tomorrow, and I've already got geeksweats!
darthweef The number of ladies is decreasing & the number of overweight guys with backpacks is increasing. Must be getting close to #sdcc #stereotypes
czarjefferson Coast guard is now called to help tron line n ocean #sdcc <-JJ>
ScottNorth Someone is playing a vuvuzela. Someone is gonna die. #sdcc
dquitmeyer The loudest bitch at Comic-Con is standing right behind me #sdcc
_Grey For once in my life, I am UNDER dressed. #sdcc
benschubert Okay, #sdcc has been going on for a day now. Where are the hot chicks in cosplay galleries?!? You fail me internets.
Melilli Chef Vader serves up Jar Jar, John the Baptist style: http://twitpic.com/27lxiq #SDCC
yourgwyneth a guy just passed us in a darth vadar costume w chef apron & hat, carrying jar jar's head on a platter #sdcc
Gregtito Overheard at #SDCC: frumpy girl says to sexy cosplay girl getting her picture taken "Are you getting all of the attention you wanted?"
chessroberts The Klingons have taken over the trolley platforms for #sdcc http://twitpic.com/27lune
twtr_gator WARNING!!! Do not follow the hashtag #SDCC if you want to actually get some work done today!
greeneyeris Nerdling hookups going on in line behind me #sdcc
thepegisin OH: She's the redhead. Which one? The redhead w/glasses. Which one?! The redhead w/glasses in a Star Trek uni. WHICH ONE?!? #sdcc
augiedb #SDCC is a world of promises and announcements, followed up with a year of bitter disappointments and failures.
redlightwrithe Not having my exhibitor badge this year makes me feel like a peasant #sdcc