Why is the Cast of Glee at San Diego Comic-Con?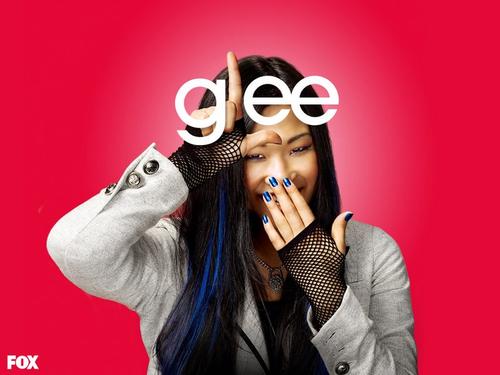 Before I launch into this little rant, I just want to point out that I'm actually a huge fan of Fox's hit television show, Glee. I watch it religiously. I own the music. Call me a Gleek. That said, I have absolutely no idea why the network is bringing cast members from the show to San Diego Comic-Con (SDCC) this year, and why there's a whole panel dedicated to it. Yes, the term for Glee fans, "Gleek", is sorta close to the word "Geek", but I just don't think that's enough to justify their appearance.
SDCC was originally a comic book convention. Now, we all know that many conventions (both big and small) have been diversifying to stay alive and competitive. Yes, there are some extremely specific niche cons still out there (like the hotly debated BotCon in Florida, which is dedicated entirely to Transformers), but many are starting to incorporate multiple fandoms into their convention's programming. Conventions that used to be entirely about Star Trek, for example, are now bringing in Battlestar Galactica and Stargate actors too.
So I do understand why and how SDCC morphed into something other than a comic book convention over the years. In my mind, incorporating science fiction, fantasy, gaming, and other geeky genres into one giant convention makes sense.
But there is nothing geeky about Glee. There just isn't. There may be a lot of geeks that like it, but that doesn't mean it belongs at SDCC.
By bringing a mainstream teen/young adult "dramedy" television show to SDCC, the organizers have given even more fodder to the convention's critics. And as popular as SDCC is, it does have its critics. Some fans of the convention, and the genres it is supposed to represent, are worried it has become a place for Hollywood to hawk its wares, no matter what they may be, geeky or not. Just look at the programming line up and you'll see virtually every major television and movie studio is there. Not only that, but the big A-list stars are there too.  Celebs like Angelina Jolie and Will Ferrell will be there, for crying out loud. While some of the actors in attendance are there representing the next latest and great comic book movie, other celebs are there for shows like Glee.
Obviously there is demand for these types of panels and events, or they wouldn't be filling up the ballrooms and getting more and more popular with each year. However, that doesn't mean they should be at SDCC. I think it's time for a nice clean split. All the mainstream pop culture non-geeky stuff can go off and become its own entity. Call it the Hollywood Preview Convention or something. And then, let SDCC go back to being about the geeky stuff, the comic books, the superheroes, the gaming, the role-playing, the fantasy novels, science fiction, etc. It is my humble opinion that the more SDCC continues to mix in the mainstream forces in television and movies, the more diluted and commercial SDCC will become. And as that happens, SDCC will lose its reputation as the one of the biggest and best geek fandom conventions out there, and be seen purely as a mainstream Hollywood studio puppet that uses attendees as guinea pigs for the next latest and greatest whatever.
I just hope it isn't already too late.