Breaking News: Stabbing at San Diego Comic-Con 2010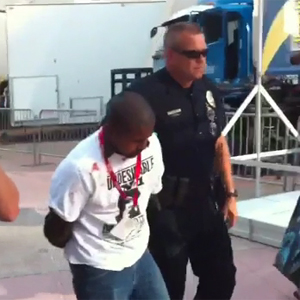 Twitter has erupted with chatter about a stabbing that occurred this evening at San Diego Comic-Con (SDCC). The story is now making its way to local and national news outlets. Two fans reportedly got into a dispute when one stabbed the other on the side of the eye with a pen. The fight was reported around 4:45 p.m., PST.
The stabbing apparently took place inside Hall H, one of the largest of the rooms at SDCC, just prior to the The Cowboys and Aliens panel. As of right now, Hall H is a crime scene and no one is allowed in or out. Reports from Twitter indicated at least one person was removed on a stretcher. Update (7:58 PST): Programming resumed in Hall H, but was an hour behind.
We're seeing reports that the fight was over a seat, and/or that it was a result of the stabber being kicked in the leg. We'll probably have more news by morning. Neither the name of the suspect or the victim have been released. In the meantime, a video of the stabber being led away by police has shown up on Tweet Reel, and you can view that here.
Update: USA Today reports that an attendee "subdued" the suspected stabber until police arrived. (link)
(Photo above is a screen cap from the video we linked to, uploaded by elguapo1)