TrekTrax Atlanta Adds Tim Russ and Duras Sisters to Guest List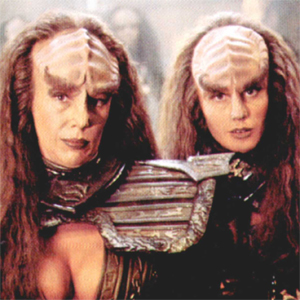 A few weeks ago The Convention Fans Blog interviewed Eric L. Watts, the founder of TrekTrax Atlanta, a brand new Star Trek convention. One of the things we discussed in detail with Eric was the convention's emphasis on providing quality Klingon programming (it will actually include an entire Klingon programming track).
In keeping with that emphasis, Barbara March (Lursa) and Gwynyth Walsh (B'Etor) have been announced as guests. The characters of Lursa and B'Etor were commonly referred to as the Duras Sisters. They made appearances in Star Trek: The Next Generation, Star Trek: Deep Space Nine, and Star Trek Generations. The Klingon fans will no doubt be quite happy with this recent guest announcement!
Also added to the inaugural TrekTrax Atlanta guest list is Tim Russ, who played Tuvok on Star Trek: Voyager. But Russ also has a tie to the Klingons, for he played one in the Deep Space Nine episode "Invasive Procedures" (and as a side note, like March and Walsh, he also had a part in Star Trek Generations).
TrekTrax Atlanta is happening February 18 – 20, 2011, at the Holiday Inn Select Perimeter in Atlanta, Georgia. Tickets are currently available for $30.00 until August 31, 2010, when the price will go up to $40. Visit www.trektrax.org for more information, and a complete guest list.