Otakon Convention Report: 30,000 Nerds. 0 Slave Leias.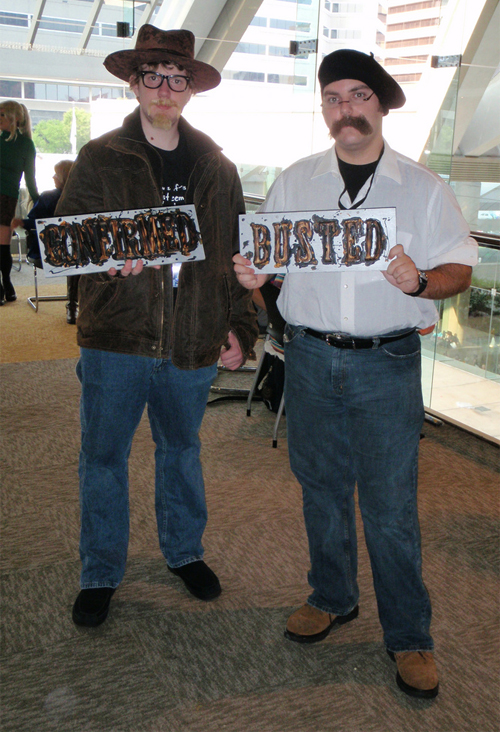 I spent the weekend at Otakon 2010 in Baltimore, and despite a busted alternator in my car, an awful rootkit that bricked my laptop and a flat tire in my friend's car, I'm going to go ahead and say I had a great time. Otakon is a great convention with an excellent atmosphere and enough fun to cure any situation that ails you.
PANELS:
We arrived at the convention center Friday morning around 11am, which was perfect timing for me to get in line for an autographing by Michael Sinterniklaas (@msinter) and Stephanie Sheh (@stephaniesheh). Before noon on the first day of the convention, almost everyone was waiting in line to get into the dealer's room, so the modest crowd for the signing got to spend a decent amount of time with the two prolific voice actors. Michael Sinterniklaas is possibly best known as Dean Venture, or Leonardo, from the recent Teenage Mutant Ninja Turtles series, while Stephanie Sheh is known for her work as Eureka in Eureka 7, and Hinata in Naruto.
I learned at their signing that they are both awesome. So I quickly analyzed the schedule, and planned out my weekend so that I could be there any time either of them was speaking. They're both clever and funny, and they did their best to answer whatever crazy questions the otaku spewed at them, regardless of how outside their scope it might be.
Saturday, Michael Sinterniklaas's Q&A was a lot of fun, and then during Stephanie Sheh's Q&A, we learned about the Fire Alarm and evacuation from Twitter. Fortunately, we were in the Hilton across the street from the convention center, so the evacuation didn't affect us, and Stephanie continued taking questions like a trooper. She even tried calling the organizers and then texted them to see if she could find out any information for us.
Sunday, Michael and Stephanie ran a special panel where they had guests dub lines in episode 1 of their latest project, Gundam Unicorn. It was fascinating to see both of them wear their producer and director hats, and teach people part of the business of voice acting. It was also kind of spectacular to see what Michael could do on the fly with ProTools, all the while joking about the awfulness of ProTools
I did not go to any Vic Mignogna panels, and to an extent, I regret missing out on him. However, the crazy fangirl response to his appearances is a little weird to me. The way these girls act, it's like he's the Beatles or something. Don't get me wrong, Fullmetal Alchemist is one of my favorites, but I'm not really into screaming tweens.
COSPLAY:
I spent much of the weekend wandering the dealer's room seeking out cosplay to photograph. You may notice I took far fewer photos than the average. This is due in part to me forgetting my backup camera battery and charger, but also because I try to only take pictures of things I recognize. There are a ton of characters from Final Fantasy, Kingdom Hearts, Naruto and many other sources that I just don't recognize. In the future, I'll try to shoot more freely and then spend a day doing research.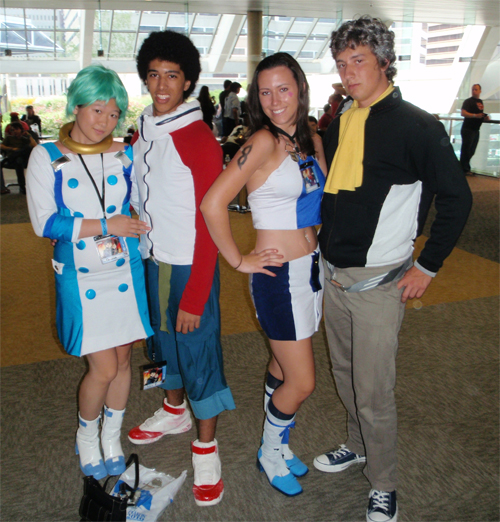 Of the conventions I've attended, Otakon has by far the highest rate of cosplayers. Friday it was something like 50%, Saturday it must have been 70% and Sunday it dropped to around 30%. This compares to a max of around 40% at New York Anime Festival, and even less at other events. I'm interested to see how Star Wars Celebration measures up. I deliberately avoided photographing the couple of Stormtroopers and the one Wookiee, since I figured I'll get tons of them in Orlando. Strangely, there were zero Slave Leias. With their saturation at San Diego Comic-Con, I figured there'd be one or two at least. I did see one Thermal-Bandage Leeloo from the Fifth Element, but I didn't get a picture.
You can see my pictures over at the Convention Fans Flickr.
I was pretty excited to have captured the key cast of both Cowboy Bebop and Eureka 7, two of my favorite animes. Apparently, in addition to Renton, Eureka, Tallho and Holland, they came with a Dominic and Anemone, but despite searching all day Saturday, I never saw them. I was also fascinated to learn that the majority of each costume I photographed was home made. The notable exceptions being the badge and patches in the Sheriff Carter costume. Even the Portal girl's stuffed Sentry was completely home made, despite being detailed enough to look like it came from the Valve store.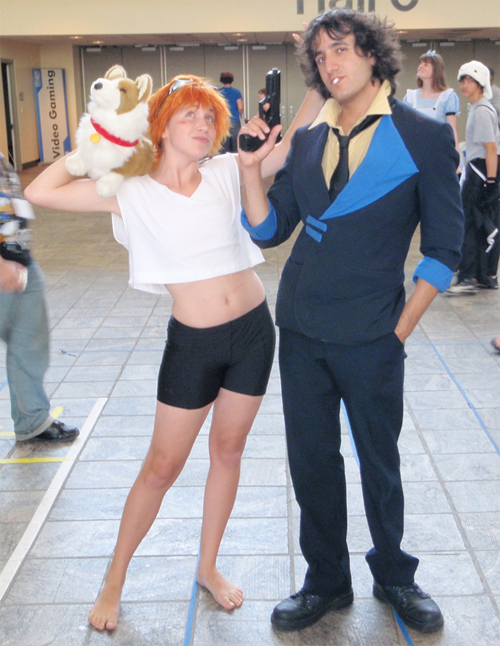 SCREENINGS:
I only made it into two screenings. I saw the first few episodes of Fullmetal Alchemist: Brotherhood, and at some point in the near future when my finances stabilize, I'll definitely be picking it up on DVD. It's a complete re-telling of the story from the first series, but it seems to progress much faster and some details are changed. I also saw the first few episodes of The Tower of Druaga, and it was pretty excellent. It jumps right into the story with a really goofy first episode, and then eases you into a little more serious plotline over the next few episodes. There are two seasons of it, released earlier this year as two collections.
FOOD:
We managed to eat as little as possible on-site, by stuffing my satchel with granola bars and Capri-suns. Unfortunately, the ration of Pocky I brought was insufficient, and additional Pocky had to be purchased on-site. Saturday, we walked all the way across the harbor area to Chiu's Sushi, and every minute of the walk was worth it. While I can't speak to any of the closer sushi places, next time you're in Baltimore and feel the need for otaku-food, give Chiu's a shot.
WRAP-UP:
You should definitely plan on attending Otakon 2011. It's a great show, run by a team that clearly loves what they're doing. Even despite the fire alarm and generally long lines, I heard almost no complaints from any guests. If you live anywhere near Baltimore, make the drive, get a hotel, and plan for awesomeness. If you're a little younger than me, you might even have fun at the Friday and Saturday night dance parties. Wear a costume! It's a great time. And maybe you could be Otakon's only Slave Leia next year.