A List of Upcoming Horror, Zombie, and Paranormal Conventions for 2010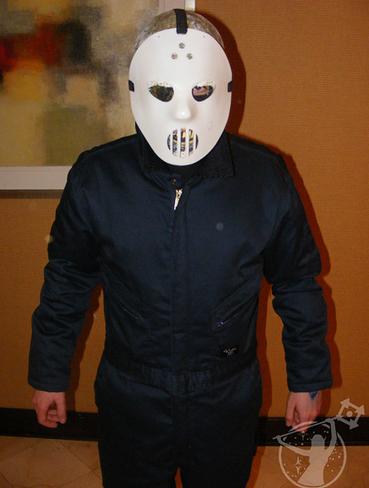 Horror conventions have been around for decades, and they are still going strong here in the United States. Whether you're looking for a hard to find Italian horror film on DVD, or seeking autographs from the great George Romero, horror conventions are the place to find both! With Halloween getting closer by the minute, I figured now was as good of a time as any to post this!
Below is a list of some upcoming horror, zombie, and paranormal conventions for what remains of 2010. This is by no means a completely exhaustive list, so if you see one missing, be sure to post a comment with the details and we'll add it. Thanks to The Convention Finder, where you can find conventions by tag, genre, and zip code, for their assistance in composing this list!
Horror Realm
September 17 – 19, 2010
Crowne Plaza, Pittsburgh, Pennsylvania
Horror Realm is a convention in Pennsylvania. Guests for 2010 include Ken Foree (actor), Frank Henenlotter (director), Bill Cardille (TV personality), Debbie Rochon (actress), John Amplas (actor), Kevin Van Hentenryck (actor), Terri Susan Smith (actress/artist), Beverly Bonner (actress), Tiffany Shepis ("American scream queen"), Priscilla Barnes (actress), and a whole slew of other people involved in horror in front of the camera on behind it. Tickets are just $30 for the weekend if purchased before August 31. Single-day tickets are available for $15.
S.O.U.L.S. FEST
October 9 – November 9, 2010
Julie Rogers Theatre Beaumont, Beaumont, Texas
S.O.U.L.S. FEST will be the very first paranormal convention in Southeast Texas. Guests include Doug Carnahan and Shane Thornton from Norcal Paranormal and Norcal Ghost Talk Radio, Rob Henry of West Virginia Paranormal, Shannon Sylvia from Ghost Hunters International and Paranormal State, and Barry Fitzgerald also of Ghost Hunters International.
Necronomicon
October 22 – 24, 2010
Hilton Bayfront, Saint Petersburg, Florida
Necronomicon is a convention dedicated to science-fiction, fantasy, and horror fans, now in its 29th year! The guest of honor for Necronomicon 2010 is David Gerrold, author of the Star Trek episode "Trouble With Tribbles". The con will feature gaming, panels, trivia, video, costumes, LARP, a dealer's room, an art show, the Necronomi-Prom, Ghourmet Bheer Tasting, an adult scavenger hunt, Filk, and more. Tickets are $35 until October 16, 2010, when the price will go up.
Mr. Hush: Weekend of Fear
October 22 – 24, 2010
Best Western Inn at Hunts Landing, Matamoras, Pennsylvania
What is the Mr. Hush Weekend of Fear? According to organizers, "it is a three-day celebration of the horror genre, where you can get autographs from horror icons, enjoy films, buy merchandise, take part in great events and much more." Guests include Stephen Geoffreys, Steve Dash, Betsy Palmer, Brad Loree, Ashley C. Williams, Edward X.Young, Jessica Cameron, and Tiffany Shepis. More guests are still expected to be announced. A weekend ticket is $30 if purchased before September 1. A one-day ticket will cost you $15 (again, if purchased before September 1).
ZomBcon
October 29 – 31, 2010
Seattle Center, Seattle, Washington
ZomBcon is all about love for the Zombie. And remember how I said if you wanted George Romero's autograph, a horror con was the way to go? Well, you're in luck, because Romero is attending ZomBcon, along with several other guests. There are several types of ticket packages available for this convention, including the Ultimate Fan Experience Weekend with Hotel, which is $675.00. The cheapest ticket is a single-day exhibition hall pass, which is $25.00. There are a slew of options in between those two extremes.
Chiller Theatre Expo
October 29 – 31, 2010
Hilton Parsippany, Parsippany, New Jersey
This convention is typically held twice a year. The guest list for Chiller Theatre Expo Fall 2010 isn't posted yet. There is currently a special deal on tickets though. From the organizers: "To show our appreciation to the people that have helped Chiller Theatre become one of the coolest conventions on the planet, for our 20th Anniversary show coming up Halloween Weekend, October 29-31, 2010, we are turning back the clock and for a very limited time our advance prices have been slashed!" Stay tuned for more updates on this one.
Scarefest Horror and Paranormal Convention
November 5 – 7, 2010
The Lexington Convention Center, Lexington, Kentucky
Billing itself as "The Largest Horror and Paranormal Convention In The USA," this convention will feature over 100 vendors, special media showings, and seminars with the stars. Guests include George Romero (the guy makes the rounds), Tom Atkins, Adrienne Barbeau, Amelia Kinkade, Brandy Green, Brian Harnois, and many more. A weekend ticket costs $55.00. Single-day tickets are also available.