Inochicon 2010 Convention Report
This past Saturday I headed out to Inochicon, a brand new anime convention in Philadelphia, Pennsylvania, with a friend and fellow con reporter. I had heard about Inochicon courtesy of Geekadelphia, and decided it would be the perfect opportunity to test out my new DSLR camera. After all, anime conventions tend to have a lot of great cosplayers who are more than willing to give a photographer some of their time.
When my friend and I arrived on Saturday, we were pleasantly surprised to see a pretty good crowd already inside the vendor room. With these first time cons, you never know if the place will be packed, or totally dead. We got our press badges easily, and I noted that the con organizers had plenty of staff on hand and plenty of signage. There we also bags with schedules and maps inside. These are always huge pluses in my book.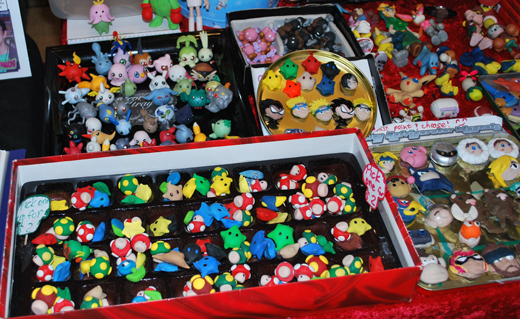 Our first stop was the vendor room, which was set up in a large hall with giant windows and vaulted ceilings. It was a great space for the vendors and artists, and everyone seemed to have ample room for their displays. The PA Jedi group even had a large roped off area for demonstrations and onlookers. One of the first things I noticed was that the con had actually set out free water and soda, along with snacks. This kind of gesture is always appreciated and helpful.
The vendors and artists presented a nice variety of merch. There was one large DVD and manga dealer who was running some nice specials. There were a few selling various figures and collectibles. Handcrafted items seemed to have a large presence at Inochicon, which is great because it provides attendees with something they can't necessarily get from the internet. The various musical groups and guests also had tables set up in the room, so fans could get a chance to chat with them before their shows.
In addition to the main vendor area, Inochicon also had some panels and events planned. We ended up going to the Cosplay/Masquerade contest, which anime comedian Uncle Yo was hosting (he's very funny by the way). It was a combination of walk-on contestants and skits. The room was completely packed, and the organizers could definitely aim for a larger space next year for the main events.  We also ventured into one of the panels, which was also packed to the gills. What we noticed with both events was that everyone seemed to be having a really good time.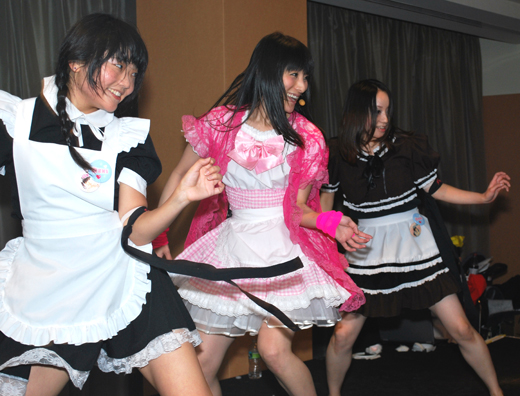 We finished out our day at Inochicon with Reni Mimura's concert. My friend and I had both seen her at Zenkakon last year, and we're pretty big fans. Getting to see Reni was definitely one of the main reasons why we ultimately came out to give Inochicon a chance. Although the concert started late, it was well worth the wait. Reni is a wonderful performer, and not surprisingly, the audience adored her. She ended her concert by bringing over a dozen fans on stage to sing and dance with her. Once it was over, she stuck around to give autographs and take pictures with fans. You can view video of her concert in three parts, courtesy of my friend Dan from Geekadelphia, on YouTube: Part 1, Part 2, Part 3.
Overall, Inochicon did amazingly well for a first time convention. It seemed organized and staffed properly. It provided some nice amenities to attendees. The programming was entertaining and engaging. There was a nice selection of vendors and artists. The venue seemed like a good choice, especially considering it is really hard to gauge what attendance will be like for a first year event.  Kudos to the con's organizers for putting together a fun family friendly anime convention in center city Philadelphia! I sincerely hope it happens again next year, as I'm sure it will only get better.
View all 100+ photos I took over at The Convention Fans Blog flickr account!